Ban Blurs UN's Role in Congo War Crimes, Heads to Copenhagen, Lessons UN-Learned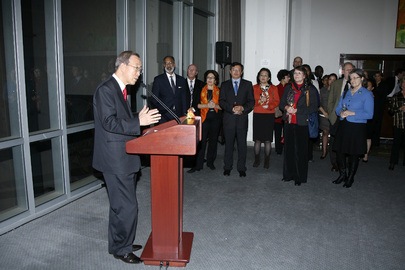 In a bland but disjointed end of the year press conference on Monday, the UN's Ban Ki-moon was asked to summarize his accomplishments since his election as Secretary General in 2006. He responded with litany of UN buzzwords — food security, gender entity, Millennium Development Goals — and admitted that there are "regional conflict issues not yet resolved."
That is an understatement. Less than an hour before Mr. Ban's press conference, three officials of Human Rights Watch detailed how the UN Mission in the Congo is becoming "implicated in violations of the laws of war" by providing logistical support to units of the Congolese Army found to have raped and murdered civilians.
Ban read from a prepared statement on this, mischaracterizing a memo by his own Office of Legal Affairs which Inner City Press put online yesterday, here. Ban argued that OLA advised suspending assistance to particular units and the Congo Mission, MONUC, did so. But OLA suggested suspending assistance to entire operations, and criticized MONUC for not have a policy from the beginning.
An earlier OLA memo from April, which Inner City Press will now put online here, told MONUC to either lead operations to minimize rights violations, or not work with the Congolese Army at all. Perhaps Ban was misinformed about the memos. Perhaps he has not and will not hear the reports of the UN's assistance to the Congolese Army being diverted and resold in Goma.
Inner City Press, having questioned the HRW officials and been the first to publish the OLA memos, was prepared to ask Ban about them. But Ban's new Spokesman Martin Nesirky never called on Inner City Press, even after a request to follow up.
Instead, the press conference's mere 13 questions included fully three about Western Sahara — all yielding the same banal answer — and several about climate change. Surprisingly, since this has become his main issue, Ban did not have anything ready when asked what proposals he is taking to Copenhagen. He said it is up to member states, he is merely a bridge. A bridge to where?
In Denmark he will "launch" a report by a group of businessmen including Carlos Slim Helu and a company, Vattenfell, which impermissibly uses its position in the UN to promote itself.
Beyond the Congo, and the failure of Ban's purported reform of the UN's contract system, Inner City Press intended to ask why the investigation of Congo mission chief Alan Doss' presumptive nepotism, urging UNDP to show him "leeway" and give his daughter a job, has now dragged on for five months. Also, this question about Sri Lanka: "General Fonskea has said that Gotabaya Rajapaksa, the president's brother, ordered that surrendering LTTE commanders be killed. Since you've met with Gotabya Rajapaksa, what's your response, and why have you not moved for an inquiry or investigation of war crimes in Sri Lanka?"
(For updates you can share with your friends, follow TNN on Facebook, Twitter and Google+)