Sri Lanka accuses General Sarath Fonseka of 'betrayal'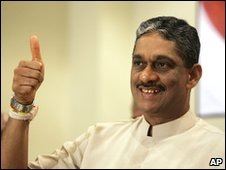 The Sri Lankan government has accused former army chief General Sarath Fonseka of betraying the nation after he made new accusations against it.
He alleged that the defence secretary Gotabhaya Rajapaksa, had ordered the killing of Tamil Tiger rebel leaders as they were trying to surrender last May.
The Sri Lankan government said they were in fact shot by other rebel fighters.
It says it is considering taking legal action against the general.
Gen Fonseka is standing against the incumbent Mahinda Rajapaksa in next month's presidential election.
The Human Rights Minister, Mahinda Samarasinghe, described Gen Fonseka's allegation as a "betrayal based on the untruth" and the biggest such betrayal in Sri Lanka's history.
'Malicious'
The minister said legal action was being considered against the general for the "malicious" remarks, carried in a Sunday newspaper interview and repeated at a news conference.
Gen Fonseka, the then army chief, was actually away from Sri Lanka in the war's final days.
But he said he learned from government media reporters that the defence secretary, who is also the president's brother, had directly ordered army commanders to shoot two Tamil Tiger leaders, having earlier told them to walk towards the army carrying white flags.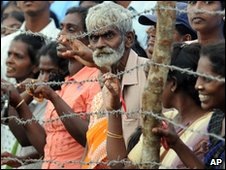 Directly after the bloody end to the war in May, diplomats were alleging that the army summarily killed a group of surrendering people led by senior Tiger rebels.
The Sri Lankan government said they were in fact shot by other rebel fighters.
Now the war crimes allegations have resurfaced in this unexpected way.
Gen Fonseka entered the presidential race, apparently unhappy at not getting due credit for the war victory.
Now he is saying that even during the war, military decisions were being made without his knowledge.
The row between him and his erstwhile friends in the government is deepening, and getting more bitter.
(For updates you can share with your friends, follow TNN on Facebook, Twitter and Google+)