In UN Round-Up, Nambiar on Myanmar, Nepotism in BONUCA, Cost of Copenhagen Staff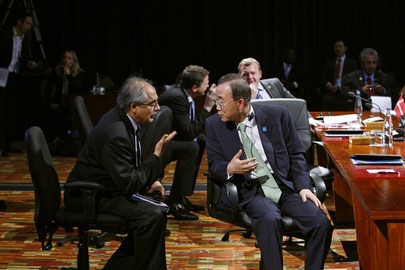 The UN's Myanmar portfolio, now that Ibrahim Gambari is being reassigned to Darfur, will be handled by chief of staff Vijay Nambiar, Inner City Press has been informed by more than one well placed UN source.
  The genial Nambiar fell under fire, given his fraternal and Indian connections, when he handled Sri Lanka. Some wonder if Myanmar will be different. In any event, this type of assignment should be publicly announced.
Item: as UN Secretary General Ban Ki-moon flies to Copenhagen, there are already over 700 UN system personnel in that city, as an estimated cost to the UN of over $12 million.
Inner City Press asked Mr. Ban's climate advisor Janos Pasztor how many UN system staff and consultants were going to Copenhagen. Ban's new spokesman Martin Nesirky replied some days later: 785.
The UN's daily sustenance allowance for Copenhagen is over $300. Combined with estimated salary and airfare — carbon offsetting has not been included — the costs comes to $12 million.
Item: As the UN Security Council prepares to consider Tuesday one of its more obscure missions, in the Central African Republic, whistleblowers there tell Inner City Press the mission is shot through with nepotism.
They paint a picture in which the UN official in New York who oversees the division BONUCA is in has brought about the hiring of relatives in the Mission: a niece, a cousin, and even a former mercenary.
(For updates you can share with your friends, follow TNN on Facebook, Twitter and Google+)