Cast the first vote to Bahu: Manickasothy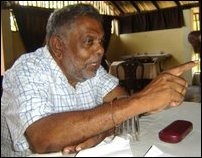 All Tamil political leaders should ensure in unison that Dr. Vikramabahu Karunaratne receive the first preferential vote in the presidential election, so that the two main candidates equal in their chauvinistic agenda against Tamils will not get the necessary 50 percent to win, said senior politician and civil movement member Manickasothy Abhimannasingham in an interview to media in Jaffna, Tuesday. Bahu was always consistent in his stand on Tamil question even under trying times and voting him is an opportunity to show the Tamil will locally and internationally, he further said. On the candidature of Mr. Sivajilingam, he said the candidature should not demonstrate Tamil disunity. His observation on TNA was that it is nowadays open about its proclivity to India and is now waiting only to receive instructions from India.
The civil movement activist urged all Tamil politicians, whether Sampanthan, Mavai Senadhirajah, Douglas Devananda, Pillaiyan, Sritharan or Siddharthan, to cast their first vote to Bahu.
Meanwhile, The Hindu regretted Tuesday for fissures in the TNA, saying that the letter and spirit of the Zurich meet, which it sees 'first of its kind,' was not adhered to. Accusing the diaspora for the woes of TNA, the Indian media said: "The Alliance is torn between the ground realities faced by Tamils living in the island-nation and sections of the Diaspora that is experimenting with grandiose ideas like 'trans-national Eelam'."
While TNA's immediate concern is 2.9 lakh IDPs in the island the French Tamils were voting for independent and sovereign Tamil Eelam, the hindu.com said.
According to Tamil circles India's effort to hijack Tamil polity in the island against the pulse of the people is the genesis of the current disaster faced by the TNA. The Zurich meet orchestrated by powers only sow seeds of dissension in political parties to split on lines of 'power alliances,' they said.
The options in the presidential election and associated agendas of both India and the US do not provide any political space or future hopes of any political space to Tamil aspirations in the island. It is essentially for this reason the Eezham Tamils have to demonstrate an appropriate response in the elections to the power-manipulated situation inside the island and create their own political space outside, Tamil circles said.
(For updates you can share with your friends, follow TNN on Facebook, Twitter and Google+)