An Implicit India Vote
o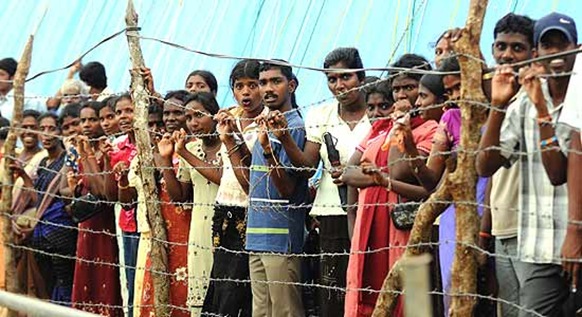 Sri Lanka: presidential polls
India may not openly back any particular candidate in the impending presidential elections in Sri Lanka, but the prospect of a former army general holding the reins of power isn't a scenario it favours. At the moment, there are not too many takers for Gen Sarath Fonseka. A senior Indian diplomat told Outlook, "The prospect of former generals seeking to fight elections in our neighbourhood is not an encouraging sign."
Sri Lankan politicians consider New Delhi's blessings somewhat crucial for their prospects. Hence, the brothers of president Rajapaksa—Gotabhaya and Basil—were on the Sri Lankan delegation that recently visited New Delhi to discuss the post-conflict situation in the island. Among other issues, the talks focused on the steps taken to rehabilitate Tamils uprooted from what was once the stronghold of the LTTE.
It was then the turn of Gen Fonseka to come calling, but he didn't get a chance to meet any of the Indian leaders. Instead, he met some 'personal contacts' in Mumbai in what was billed as a private visit. A senior official in South Block said, "We know Fonseka the man, but we don't know Fonseka the candidate." This reflects the Indian establishment's reservations about him—he can't be taken seriously because of his contradictory public statements.
Indeed, it's one thing to be a victorious general, quite another to be the president. And though Rajapaksa isn't really a benign personality, the senior MEA official quipped, "It's better to deal with the known devil rather than the unknown one." No doubt, Rajapaksa has been criticised for his "tough line" in dealing with the Tamil Tigers, yet he has been mindful of New Delhi's concerns, taking it into confidence at every stage of the conflict.
Rajapaksa has also been criticised for giving China a toehold in the island. Beijing's presence could grow stronger as it has offered assistance in the process of reconstruction and rehabilitation in post-conflict Sri Lanka. New Delhi isn't bothered about the China factor, actively involved as it already is in the rebuilding process there. It's confident of retaining its position as a key player on the island.
New Delhi is also keeping a close watch on the emerging trends in the weeks before the presidential polls. For one, too many candidates have thrown their hats in the ring, raising the inevitable spectre of division of votes of different ethnic groups. It feels there's no clear indication of who among the presidential cadidates has the support of the Tamil and Muslim minorities. As for the Tamils, the Tamil National Alliance (TNA) enjoys considerable influence among them and will, therefore, play a crucial role in who becomes the president.
(For updates you can share with your friends, follow TNN on Facebook, Twitter and Google+)