Tamil Nadu leaders wish well for referendum in Canada
Tamil Nadu political leaders Pazha Nedumaran, Ko'laththoor Mani, Aruna Bharathi and Thamizharuvi Maniyan in their statements Friday wished well for the democratic move of Canadian Tamils in conducting a referendum on Tamil Eelam Saturday and urged all Canadian Tamils to make it a grand success. Other prominent leaders like Vaiko and Thol Thirumavalavan have already extended their support to this international effort. Mr. Thirumavalavan has recently called for such democratic exercises in Tamil Nadu too. In the meantime, the move for the referendum is enlightening many Canadians on the history of Eezham Tamil struggle and how the struggle predates militant movements, said a Canadian Tamil who happened to spend some time with Canadian intelligence officials in explaining what was Vaddukkoaddai Resolution.
Vaddukkoaddai Resolution and its mandate was a significant event in the history of World Tamils. After all the sacrifices, there cannot be any retract from the goals of the mandate, said Pazha Nedumaran. "I urge every Tamil person to steadfastly stand by the principle of the resolution, upholding an independent and sovereign Tamil Eelam."
Following Norway and France, the Canadian Eezham Tamils too should overwhelmingly mandate the main principle of Vaddukkoaddai Resolution, said Periyar Dravidar Kazhakam Leader Kolaththoor Mani. As successive Colombo governments had in the past rejected all reasonable and reconciliatory demands such as the Thimphu proposal, limited itself to self-determination and on the contrary Colombo had committed unforgivable genocide on Tamils, proposals such as Thimphu are of no relevance today and Eezham Tamils have to stick to full independence and sovereignty of the Vaddukkoaddai Resolution, he further said.
PDF: Statement from I'lanthamizhar Iyakkam
"Make it a hundred percent success," wishes K. Arunaparathy, the coordinator of I'lanthamizhar Iyakkam (Young Tamils Movement). Diaspora Tamils today bear the bulk of the responsibility in the liberation struggle, he said.
MP3: Voice: A commercial announcement in 680 News
"Democratic political struggle is the most feasible way in the current context," says Thamizharuvi Maniyan of the Gandhiyan Political Movement, who was formerly a leader of the Congress Party in Tamil Nadu. "In the line of Vaddukkoaddai Resolution, if a Gandhian struggle is pursued internationally, Tamil Eelam could be achieved in our own lifetime," he further said wishing well for the referendum movement in Canada.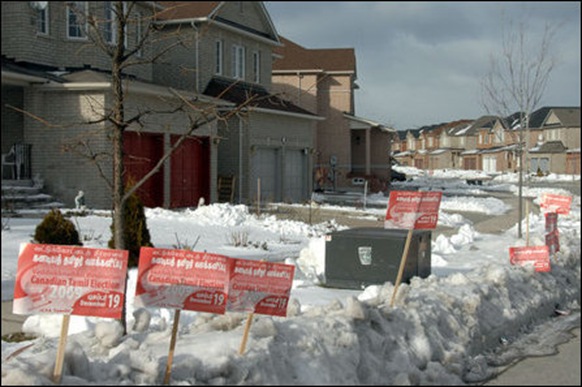 (For updates you can share with your friends, follow TNN on Facebook, Twitter and Google+)