"Tamils should reject Mahinda, Sarath in the presidential poll" – Sivajilingam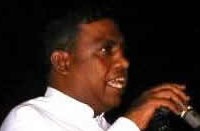 "I am contesting in the presidential election only to give the Tamils of the North and East to register their unified protest against the presidential candidates Mahinda Rajapakse and Sarath Fonseka who were the key characters in killing our people and subjecting them to untold suffering," Sivajilingam, the Tamil National Alliance (TNA) parliamentarian and the Tamil presidential candidate said Friday in a press meet held in Janatha Hotel in Jaffna. Sivajilingam extended a public appeal to TNA to support him in the election in order to show the world that the Tamils of the North and East reject both Mahinda and Sarath.
"This presidential election is held for the Sinhalese people to decide who the best 'War Hero' was in annihilating the Tamils in Vanni and I am not worried about this; I want the entire Tamils of the North and East to register their protest by rejecting both of them by voting for me," Sivajilingam said.
He further explained that he wanted the TNA to field a common Tamil candidate in the election so that the entire Tamils in the country could show they reject both Mahinda and Sarath.
"Though 12 TNA parliamentarians were inclined to support his call TNA had not proposed a common Tamil candidate on behalf of TNA until the last minute and that is why I had to enter the contest," Sivajilingam said.
"I totally deny the accusations that I have received money to contest," he added.
"I am prepared to withdraw from this election if either Mahinda Rajapakse or Sarath Fonseka will publicly say that that he is ready to resettle the displaced Tamils in their own places immediately, to permit reunion of the militants with their families and presnt an acceptable solution to the ethnic issue based on self rule in united North and East, be it federal system or provincial self rule," Sivajilingam said.
(For updates you can share with your friends, follow TNN on Facebook, Twitter and Google+)