UN presses Sri Lanka over Tamil Tiger killings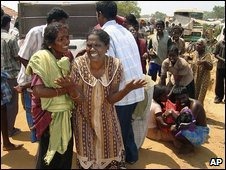 The Sri Lankan government says the UN has asked it to explain allegations that Tamil Tiger rebel leaders were executed as they tried to surrender.
The president's office said it was studying the request and would take any action necessary.
The claims – rejected by the government – were first made in a Sri Lankan newspaper and attributed to Sri Lankan ex-military chief Gen Sarath Fonseka.
Gen Fonseka has since said his remarks were misunderstood.
The general, a candidate in next month's presidential election, has said he was only repeating what he had been told by journalists who had been at the scene.
However, government officials have accused Gen Fonseka of "betrayal".
After the war's bloody end in May, some diplomats alleged that the army summarily killed a group of surrendering people led by senior Tiger rebels.
But the Sri Lankan government has said they were in fact shot by other rebel fighters.
The UN's request came from its special rapporteur on extrajudicial killings, Philip Alston.
The statement from President Mahinda Rajapaksa's office said the UN "has asked the government to provide explanations with regard to the circumstances of the death of three senior LTTE [Liberation Tigers of Tamil Eelam] cadres and their families at the last stages of military operations to defeat the LTTE in May this year".
The Sri Lanka's government crushing military victory ended the Tigers' quarter-century war to create a separate state for ethnic minority Tamils.
The UN estimates that up to 7,000 civilians died in the final stages of the war, although the government disputes the figures.
Both sides were accused of human rights violations and atrocities during the long conflict.
'War without witness'
During the war's last few months it was difficult to obtain information from the battle zone as there were no independent monitors on the ground and media access to the conflict zone was strictly restricted.
As a result, Western nations described the conflict as a war without witness.
Analysts say despite its repeated denials, the Sri Lankan government may find it difficult to convince the outside world, unless there is a credible independent investigation into the final stages of the conflict.
BBC News – UN presses Sri Lanka over Tamil Tiger killings
(For updates you can share with your friends, follow TNN on Facebook, Twitter and Google+)