Mobile billboard aids boycott campaign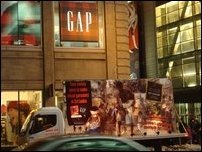 Times Square holiday shoppers were alerted Monday by a moving truck carrying a large bill board in its cargo bay urging the shoppers to boycott garments produced in Sri Lanka for Gap, Victoria's Secret and other big-label department stores, sources in New York said. The truck with a large billboard showing images of Tamil refugee suffering drove along popular shopping clusters in New York city, including 34th Street and Broadway. Lighting arrangements in the truck enabled the campaign to extend until early evening 7:00 p.m., according to the organizers of the campaign.
Organizers for the campaign said that the campaign will continue on a regular basis. "If sufficient donors show interest we are prepared to activate this campaign frequently to have maximum impact," an organizing member said.
The 20′x10′ billboard can also be used in other rallies until the Tamil IDPs held in the Sri Lanka internment camps are settled in their own villages, an activist said.
Sri Lanka Government has been holding more than 300,000 refugees in military supervised internment camps until recently, and due to sustained pressure by the international community released more than 200,000. Nearly 100,000 are still being held in the camps.
In an eye-witness account, British daily Guardian said in its Sunday edition, that "Tamil women interned after escaping the horrors of the civil war in Sri Lanka were sexually abused by their guards who traded sex for food," and that internees were "punished by being made to kneel for hours in the hot sun, and those suspected of links to the defeated Tamil Tigers were taken away and not seen again by their families."
(For updates you can share with your friends, follow TNN on Facebook, Twitter and Google+)