S.Lanka threatens legal action over war crimes claim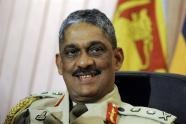 Sri Lanka threatened on Wednesday to take legal action against its former military chief over his claims that troops had committed war crimes against Tamil Tiger rebels.
Former army chief Sarath Fonseka claimed this month that Sri Lankan troops shot dead surrendering Tamil leaders on the orders of the defence secretary during the final stages of 37-year conflict in May.
"We are looking into taking some sort of legal action against general Fonseka in line with the constitution and the laws of the country," Human Rights Minister Mahinda Samarasinghe told reporters.
His remarks came a day after the government announced that the United Nations had sought clarification on the circumstances leading to the deaths of senior Tamil rebels who had wanted to surrender in May.
Fonseka, who is challenging President Mahinda Rajapakse in a January 26 election, has said he was given information about the alleged killing of the surrendering rebels by an unnamed state media reporter embedded with troops.
Fonseka himself was away in China on a previously arranged visit when security forces entered the final days of the battle that finished off the entire leadership of the Liberation Tigers of Tamil Eelam (LTTE) on May 18.
The LTTE's new international representative, Selvarasa Pathmanathan, who is now in government custody, announced at the time that senior Tigers who surrendered carrying white flags had been killed in cold blood.
(For updates you can share with your friends, follow TNN on Facebook, Twitter and Google+)