UN Official's involvement in LTTE leaders' killing questioned
Following up on independent rapporteur for the UN Human Rights Council in Geneva, Philip Alston's, request to Colombo to provide details of the killing of LTTE leaders who surrendered the arms, Inner City Press questioned, "given not only the UN's role in the final days of what even it called the "bloodbath on the beach" in Sri Lanka, but especially UN chief of staff Vijay Nambiar's reported role in the deadly surrenders, why Rapporteur Alston has not already demanded answers from the UN itself."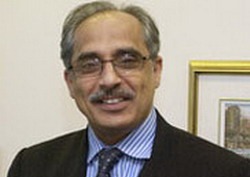 ICP's Matthew Lee asked UN pokesperson Martin Nesirky: "John Holmes has appeared on an interview with CNN's [Christiane] Amanpour, and seemed to confirm that during the final days of the fighting in Sri Lanka, that Vijay Nambiar was telephoned by leaders who sought to surrender, who ended up being killed. So, there is a big controversy right now in Sri Lanka about the charge that the Defence Minister, with whom Mr. Ban has met, gave the orders to kill surrendering prisoners. I wonder if it's possible, is that… Number one, can you, it'd be good to hear instead from Holmes about Nambiar, or maybe from Mr. Nambiar, but what was the UN's role in these attempted surrenders? And where does it stand on Mr. Ban's call for accountability or some type of an outside investigation or panel of inquiry into possible war crimes?
Mr Nesirsky's response was, as quoted in the ICP report, "What Mr. Holmes said yesterday, he speaks for himself in this particular case; of course, I am not going to amplify what he said. He knows what he's talking about. What I would suggest is that you let me find out some more details and then I can answer you with more certainty.
ICP followed with the following: "[a]ll right. Maybe from Mr. Nambiar on some basis, because I think he's confirmed that he got these calls from people who ended up being killed while waving white flags. So, it seems important to nail down what happened."
Nesirky responded: "[o]nce he's back in town, we'll see what we can do."
"If the past is any guide, the Rajapaksa administration will either not provide direct answers, or will issue vituperative denials. It did this in response to video footage depicting Sri Lankan soldiers killing bounded and naked people, footage that has since been authenticated," the ICP said in its report Monday.
War crimes allegations, against key officials in the Sri Lanka Government, based on the Channel-4 video are unlikely to disappear from being raised by organizations keen on bringing action against Colombo in international fora. Two independent forensic analyses in the UK and in the US have established the authenticity of the video, a recent IFJ report has raised the matter's importance in war-crimes investigations, and Alston had earlier said that the UN will carry out its own analysis.
Further, TamilNet has learnt that a detailed technical report of the video, including point-by-point rebuttal of the discredited Colombo experts analysis, and calculations pointing to the approximate location of the summary killings based on geospatial geometry and shadow configurations in the video are likely to be presented at the "war-crimes tribunal" in Dublin in January.
(For updates you can share with your friends, follow TNN on Facebook, Twitter and Google+)