Asia marks fifth anniversary of Indian Ocean tsunami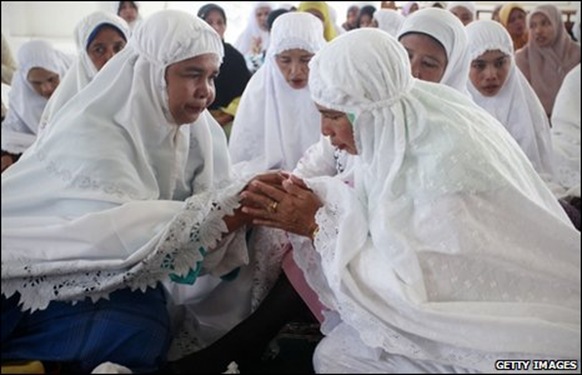 Countries across the Indian Ocean are marking the fifth anniversary of the catastrophic tsunami that killed almost 250,000 people.
In Indonesia's Aceh province, where 170,000 died, thousands held prayers in public mosques and private homes.
On Thai beaches, Buddhist monks chanted prayers as mourners held pictures of loved ones lost five years ago.
Hundreds of tourists also returned to Phuket island to mark one of the worst natural disasters of modern times.
A moment of silence was observed on Phuket's popular Patong Beach marking the time the tsunami struck.
German survivor Ruschitschka Adolf, 73, and his wife Katherina waded into the turquoise seawater to lay white roses as a tribute to the dead.
"We [still] come and stay here because we are alive," Mr Adolf told Reuters news agency.
Other ceremonies were expected in the 14 countries hit by the massive wave.
Communities rebuilt
Thousands of survivors in Indonesia's Aceh province, the hardest-hit area, gathered at mosques and beside the mass graves where tens of thousands were buried.
"None of my family members survived in the tsunami," Siti Aminah, 72, told AFP news agency at a grave site near Banda Aceh, Aceh's capital.
"My children, grandchildren, brothers, sisters, they all have gone and left me alone here."
Banda Aceh's main business district, which was completely destroyed by the tsunami, is again bustling with activity, says the BBC's Karishma Vaswani there.
Our correspondent says many have rebuilt their lives thanks to billions of dollars in international aid.
But five years on, the grief and trauma of the disaster are still very real for the people of Aceh, she adds.
After Indonesia, Sri Lanka was the country worst hit by the tsunami.
More than 40,000 people died there and half a million were displaced.
Visitors can still see blackened, destroyed buildings in the country's south and west, the BBC's Charles Haviland reports from Colombo.
There are also large vistas with a view of the ocean from the coast road, which were once blocked by buildings, our correspondent says.
But there has been good recovery too – aid grants have brought some farmers to a higher technical level than before.
And one model village built by a philanthropist – which started out as 1,000 homes for victims – has now developed to take in a health centre, diving classes and more, our correspondent adds.

 
A railway line destroyed in Sinigame, Sri Lanka, has been rebuilt
Unprecedented scale
The tsunami was sparked by a 9.2-magnitude earthquake off the Indonesian island of Sumatra – the mightiest earthquake in 40 years.
In Aceh province, the quake toppled homes and buildings and sent panicked residents rushing into the streets.
About 20 minutes later, a wall of water up to six stories high surged in from the sea, burying thousands in thick black mud and leaving others to scramble up buildings or cling onto trees.
It was a disaster on an unprecedented scale, the BBC's Rachel Harvey reports from Bangkok.
Apart from the deaths, hundreds of thousands people lost their homes and livelihoods.
No single agency or government could have been prepared for the challenges the tsunami presented, our South-East Asia correspondent says.
(For updates you can share with your friends, follow TNN on Facebook, Twitter and Google+)