Sri Lankans want to know where tsunami aid has gone – The National Newspaper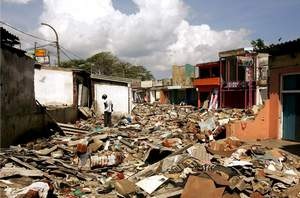 Five years after the tsunami swept over the shores of Sri Lanka destroying everything in its path, victims are continuing to rebuild their lives. But their efforts have been plagued by nagging questions over widespread corruption in programmes expected to provide thousands of houses worth billions of rupees.
More than 35,000 people in Sri Lanka were killed and more than a half million displaced when an earthquake off the Indonesian coast on December 26, 2004 triggered a series of tsunamis along coastlines in the Indian Ocean. Nearly 100,000 houses in Sri Lanka were destroyed by the deadly waves.
A drive down to Galle or Matara in the south and Batticaloa or Ampara in the east reveals numerous tsunami victims who have yet to receive promised houses or compensation, while the houses built for many others were constructed so shoddily that they need to be replaced.
Elsy Priyadharshi, a tsunami survivor from Wattala, a coastal town about 10km north of Colombo, was quoted in a statement issued on Tuesday by the International Organisation of Migration (IOM) as saying that soon after the tsunami struck, she and her family found refuge in a nearby church and then moved to a camp for the displaced and thereafter to transitional shelters.
"After five years we are finally moving to permanent houses, which are 100,000 times better than the camp where we stayed before and this has helped us get our lives back to normality," Ms Priyadharshi, who has been a leading advocate for permanent housing, said in the statement.
Her new home is part of the IOM tsunami recovery programme that has built about 8,570 emergency transitional shelters and permanent homes for tsunami-affected communities along the southern and eastern coasts of the island nation. Takuya Ono, the head of IOM Sri Lanka's engineering services, said in the statement that without a permanent home, it is difficult for people to rebuild their lives and livelihoods.
Ms Priyadharshi and others are now asking why it took so long for them to get a home to call their own.
Transparency International Sri Lanka in March 2007 found that funds pledged by donors for post-tsunami work totalled 241.5 billion rupees (Dh18.9bn), of which 122 billion rupees were disbursed to various implementing agencies. Out of this, only 68.5 billion rupees were spent on projects.
"There is no precise evidence to explain the missing sum of 53.5 billion rupees [of money disbursed]," TI said at the time. Rukshana Nanayakkara, TI Sri Lanka's deputy executive director, said no proper audit of funds used in post-tsunami work has been done. "An audit was done by the government's auditor general in 2005 [soon after the money came in from donors] but nothing after that," he said in a recent interview.
"There were serious issues about how the money was being spent and by whom," said Firzan Hashim, the deputy executive director of the Consortium of Humanitarian Agencies, which acts as a co-ordinating body for many non-governmental organisation's relief efforts, including Save the Children and Oxfam.
Mr Hashim pointed out that after numerous NGOs swarmed into the country after the tsunami hit, local authorities struggled to keep track of their movements. Citing one example of the attempts to misuse donor funds, Mr Hashim explained how one foreign couple wanted pictures of tsunami housing projects to send abroad to a donor and claim it was done by them. "We chased them away," he said.
Jayaweerabaduge Nimal, a 43-year-old fisherman from Ussangoda village near the southern town of Hambantota, said he's lucky to be alive after the tsunami almost swept him away. While his house was not destroyed, as it was some distance from the sea, he said several new houses meant for the victims went to others who were unaffected.
"If you were friendly with a local politician or prepared to pay a small bribe to a local official, you could get a house on false pretences," he said.
Mr Nimal's sister and four other relatives died in the tragedy. His parents, whose house was near the beach at Ussangoda, survived the tragedy but their house was washed away.
Mr Nimal does recall one short-term benefit left in the tsunami's wake. While many fishermen didn't return to the sea for nearly three months, he took his catamaran out to sea in early January 2005 and was blessed with a large catch. "There was an overflow of fish as no fishing had taken place for several days and we had plenty to eat and sell," he recalled.
Mohamed Rushdi, also from Hambantota, has no such positive memories of the effects of the tsunami. "We were on the second floor of our house and heard this loud noise. With my father and mother, I rushed downstairs and then saw the place flooded. We then rushed upstairs only to be washed away as the waters swelled and rose," he said.
Moments later Mr Rushdi found himself 500 metres away from his home with a broken leg and debris all over. The bodies of his parents were never recovered. Mr Rushdi now lives in Canada. He recently returned to Sri Lanka for his sister's wedding. "That was a traumatic experience," he said, recalling the tsunami and its aftermath.
But the wave of sympathy for the affected, irrespective of race or religion, in those early days, lifted some hopes that the majority Sinhalese would patch up their differences with minority Tamils who were complaining of discrimination in state education and jobs.
"Unfortunately that didn't happen. We lost a great opportunity for unity after the tsunami. We have another chance now that the conflict is over," said Renton de Alwis, the former head of Sri Lanka's state agency responsible for tourism, who is now a social activist.
Today the government says it is better prepared should another tsunami hit. Gamini Hettiarachchi, the director general of the Disaster Management Centre, said 55 tsunami warning towers have been placed across the island with sirens and speaker systems that are operated at the press of a button from the Colombo-based centre.
"We get global alerts on earthquakes and did an evacuation on a tsunami warning in July 2007," he said, adding that creating awareness on disasters such as the tsunami and setting up district committees on early warning, search and rescue, and camp management have been going on in the past few years.
The Disaster Management Centre was organising a tsunami-alert rehearsal at 3pm on Saturday in 11 districts in which 400 to 500 families will be evacuated to safer ground after warnings are sounded.
(For updates you can share with your friends, follow TNN on Facebook, Twitter and Google+)