Ocean Viking refugees still waiting to learn fate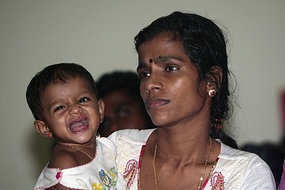 The Federal Government has been called on to develop a fresh approach to the way it deals with asylum seekers, as the remaining 63 refugees from the Oceanic Viking wait to learn their fate.
Two from the group have been sent to Melbourne and 13 others were taken in by Canada.
The refugees have been in an Indonesian detention centre after their month-long stand-off aboard the Australian Customs ship.
Greens Senator Sarah Hanson-Young says it is time the Government revealed where it will send the rest, including any incentives offered to other countries to take the refugees.
"It's a new year approaching very quickly. Let's start with a fresh approach," she said.
"Let's start with an approach that puts people first and ensures that we manage refugees and their concerns and their issues and needs humanely, safely and quickly."
Senator Hanson-Young says the remaining refugees from the Oceanic Viking should be brought to Australia sooner rather than later.
"What we do know is that the timeframe the Government set and agreed with both Indonesia and the asylum seekers themselves, who are of course now been found to be refugees, is quickly running out," she said.
"The deadline is almost upon us and yet we haven't got any real indication as to how many of those people will come to Australia."
Meanwhile, the Government says extra demountables have been placed at Christmas Island, increasing the capacity of the immigration detention facility to 1,700 places.
Around half of the extra 200 beds are already available for use.
The Government has been forced to substantially increase the facility's capacity after an influx of asylum seekers, many of them from Sri Lanka.
(For updates you can share with your friends, follow TNN on Facebook, Twitter and Google+)