Around 800 persons including 50 women held in Boosa detention centre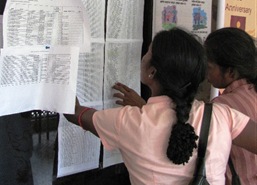 Nearly 800 youths including 50 women who had been either abducted in white vans or arrested by the armed forces in Vanni detention centres from January to September 2009 are being held in Boosa camp, according to a list sent to Human Rights Commission (HRC) Jaffna officials by HRC office in Colombo. Most of the families of the above detainees, being still held in Vanni detention centres, have no way of learning the fate of those abducted and arrested, the HRC Jaffna officials said.
Meanwhile, resettled Vanni IDPs in Jaffna continue to visit Jaffna HRC to find whether their sons or daughters are among the list of 800 youths in Boosa camp.
Less than 50 persons had been able to find their near and dear ones being held in Boosa camp.
(For updates you can share with your friends, follow TNN on Facebook, Twitter and Google+)