Sri Lankan refugees leave Indonesia: official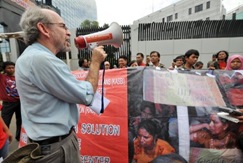 Forty seven Sri Lankan refugees who spent weeks refusing to leave an Australian customs boat in Indonesia have been sent to Australia and Romania, an Indonesian official said Wednesday.
The refugees were part of a group of 78 Sri Lankans who were rescued from a sinking boat by the Australians in Indonesia's search-and-rescue zone in October, as they attempted to reach Australia.
"Sixteen people left yesterday for Australia while 31 others went to Romania to be processed for resettlement in a third country," Foreign ministry spokesman Teuku Faizasyah said.
He said the migrants had been determined to be genuine refugees by the United Nations High Commissioner for Refugees (UNHCR). UNHCR officials in Jakarta were unavailable to comment.
Another 15 people from the original group that was rescued were sent to Australia and Romania earlier this month.
Sixteen were still being processed at an Australian-funded immigration detention centre at Tanjung Pinang, on Indonesia's Bintan island.
"There will be the same procedure for them. The UNHCR will determine the third country for them," the spokesman said.
"This is part of Australia's commitment to deal with the problem. They tried to find a solution so that the refugees don't become a burden for Indonesia," he added.
(For updates you can share with your friends, follow TNN on Facebook, Twitter and Google+)