Fourth Anniversary of Trinco Students' extra-judicial killings
Dr Kasippillai Manoharan, the father of high school student Ragihar who with four of his friends were extra-judicially executed in what is widely believed to be pre-meditated killings by Sri Lanka military, told TamilNet today, at the fourth anniversary of the killings, that there is not even an iota of chance that he would receive justice from the Sri Lanka court system for his son's death, and that he is working with a select group of international organizations to bring war-crime charges against the culpable Sri Lanka military officials. Dr Manoharan who, with the surviving members of his family, was relocated to UK with the assistance of a UN organization, said that he will not rest until his son's killers are prosecuted in an international court of law.
HRW demands witness protection
Dr Manoharan said that the Trincomalee Magistrate Court has been postponing his son's case routinely on a monthly basis for the past three years. "I had some hope in the Commission of Inquiries when it was first constituted. However, as everyone knows that too turned very political, and lacked transparency. Sri Lanka's President ordered the video conferenced witness accounts to stop, the International Independent Group of Eminent Persons (IIGEP) quit, and the only Tamil member of the Commission Dr Nesiah was asked to leave the Commission due to Sinhala Nationalists' pressue," said Dr Manoharan, indicating that chances of getting local judicial redress to his son's death is almost zero.
UTHR: Special Report 24- The Five
Student case in Trincomalee
Meanwhile, a Sri Lanka Rights Group, whose members are in exile due to threat to their lives in Sri Lanka, has been conducting independent investigations into the Trinco killings, and has produced comprehensive reports, drawing inferences from the hearings conducted by the Commission of Inquiries while the CoI was functioning.
UTHR Special Report 35- Official
Secrets and Blind Justice
The Rights Group, in Special Report No.24, argued that the killings were the result of "a planned outrage committed by members of the STF [Special Task Force, a branch of Sri Lanka Police] team, and executed by SSP [Special Suprintendent of Police] P Kapila Jayasekere," and concluded that "on 2nd January 2006 when a large holiday crowd was at the Trincomalee sea front, men coming in a green auto-rickshaw shied a grenade about 7.30 PM and drove along the Fort Road, past Pansala (Buddhist shrine) checkpoint and entered Fort Frederick, the Army HQ. A few minutes later, STF men under Inspector VAS (Vas) Perera, who had been stationed near the Clock Tower, drove to the sea front, past the same Pansala checkpoint, beat up and shot dead five students, leaving two injured."
Special Report 35, the authors say, "augments the discussions [evidence in Report 24] with facts obtained from the proceedings at the Commission of Inquiry and additional information gathered by us [the authors]."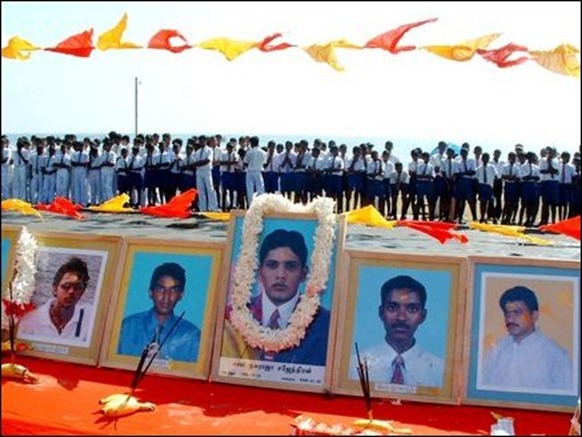 photographs of students.
Meanwhile, the Tamils Against Genocide (TAG), a US-based activist group, said that Dr Manoharan's case will be documented and placed on record as part of TAG's submissions to the war-crimes hearings scheduled to take place in Dublin, Ireland in mid-January.
(For updates you can share with your friends, follow TNN on Facebook, Twitter and Google+)