Sri Lankan presidential contender woos Tamil voters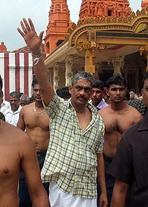 Sri Lanka's former military chief Sarath Fonseka took his presidential campaign Saturday to the ethnic heartland of the Tamil Tiger rebellion he helped crush last year.
The retired four-star general, who is seen as the main challenger to President Mahinda Rajapakse in polls slated for January 26, visited the northern region of Jaffna, where he toured a historic Hindu temple and addressed a rally.
Fonseka, 58, was also due to meet the influential Roman Catholic Bishop of Jaffna, Thomas Savundranayagam, a spokesman for his office said.
In an interview with an Indian television network on Friday, Fonseka had warned that Rajapakse was out to rig the election and said he feared a violent campaign.
"You can see the election is going to be a very violent election and we want every friendly country to put pressure on the president to ensure democracy is established," he told the NewsX network.
Both Fonseka and Rajapakse are from Sri Lanka's majority Sinhalese community and appeal largely to their own ethnic group. Both claim credit for the final defeat of the Tiger rebels in May, which ended a decades-old ethnic conflict.
The possibility that they might split the Sinhalese vote has added weight to the intentions of the Tamil electorate and officials said Rajapakse, 64, was expected to visit Jaffna later this month.
The defence ministry effectively blocked independent journalists travelling to Jaffna, even though the authorities had announced last month that travel restrictions had been withdrawn.
Rajapakse called the early January poll in a bid to capitalise on the victory over the separatist Liberation Tigers of Tamil Eelam (LTTE) who had launched their campaign for a Tamil homeland from Jaffna in 1972.
(For updates you can share with your friends, follow TNN on Facebook, Twitter and Google+)