Sri Lanka candidate Gen Sarath Fonseka woos Tamils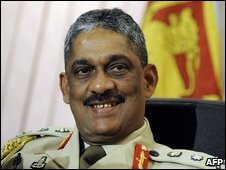 The former Sri Lankan army commander now competing for the presidency, Gen Sarath Fonseka, has pledged to grant an amnesty to all former militants.
Gen Fonseka has submitted a proposal named "Immediate Relief Measures for War Affected Persons," to the leader of the Tamil National Alliance party.
He is eager to win the Tamil vote in forthcoming presidential elections.
Over 10,000 former Tamil Tiger cadres are currently detained in different detention centres in Sri Lanka.
Gen Fonseka has pledged to release those who have no evidence against them "within one month".
The main opposition candidate has also pledged to dismantle controversial High Security Zones (HSZs) "in keeping with the relocation of the security forces".
The Tamil National Alliance (TNA) parliamentary group leader R Sampanthan was told of the Immediate Relief Measures for War Affected Persons programme by Gen Fonseka after talks on Monday.
Emergency regulations
"As an overall measure affecting all Sri Lankans, the state of emergency presently in force and the regulations made there… are to be terminated," the document says.
The government insists it is too early to terminate emergency regulations, arguing that the threat posed by former Tamil Tiger rebels is still active.
Gen Fonseka also pledged to disarm all armed groups.
"All paramilitary cadres and armed groups are to be dismantled forthwith," the document said, without naming any of the groups concerned.
In an apparent response to TNA leader's earlier accusation that the government was seizing lands in the east, Gen Fonseka has pledged to terminate the practice while at the same time cancelling allocations deemed "not transparent" or "corrupt".
There was also no mention in the document as to whether a Fonseka presidency would offer any political solution to address the grievances of the Tamil minority in Sri Lanka.
The former army commander is competing against President Mahinda Rajapaksa to be the next president of Sri Lanka.
(For updates you can share with your friends, follow TNN on Facebook, Twitter and Google+)