IDPs 'resettled' to another camp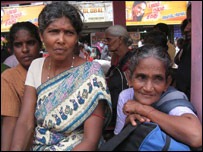 Over two hundred internally displaced people (IDPs) had been relocated to a camp in Killinochchi instead of resettling in their homes, says one of the refugees who spoke to the BBC.
He told the BBC Sinhala Service, that they were taken from Vavunia to Killinochchi to be put in another camp.
"We were brought here from the Arunachalam camp in Vavunia. They told us that we would be permanently resettled in our own homes," he told the BBC.
Tamil inmates from Vavunia say that they are frustrated about the situation.
Home nearby
"We had been here in this camp for over a month now. We were promised that we would be going home within days. Latest we heard is that it will happen in a month".
The refugee who spoke to the BBC from Killinochchi, said there are fifty two families in this camp situated at Killinochchi Central School.
"Once we arrived, we were given dry rations, now we get cooked food like any other camp. The perimeter of the school is guarded by the Army,"he said.
"My house is only 800 metres away from this camp. We are kept in the school while there is an army camp where my house was. This is a new camp established since the end of the war".
The refugees are not allowed out by the authorities, he says.
"After days of protest, they took us in a bus for a hair cut. The barber was only one hundred metres down the road. We were taken back to the camp immediately after the haircut".
(For updates you can share with your friends, follow TNN on Facebook, Twitter and Google+)