On Sri Lanka, UN Won't Observe, Has Hopes for IDPs, Mute on Accountability
On the day the UN belatedly confirmed it would not be providing any observers to attempt to reduce fraud and disenfranchisement in Sri Lanka's January 26 elections, Inner City Press asked Secretary General Ban Ki-moon about the internally displaced people who remain in the camps the government moved and locked them into, and about accountability for war crimes. Video here, from Minute 9:50.
Ban Ki-moon answered only the first to the two questions, citing Sri Lanka's commitment to empty the camps by the end of January — that is, after the elections. According to aid groups, over 90,000 people, nearly entirely Tamils, remain in the camps. Fewer than 10% of them are registered to be able to vote.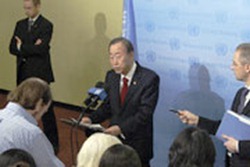 UN's Ban, Inner City Press in front, answer on accountability not shown
Here was the exchange, as transcribed by the UN:
Inner City Press: I wanted to ask you, if I can, on Sri Lanka. Right now the IDP [internally displaced persons] camps, there are still people inside them. There has also been a failure to do any investigation of the events of May, and most recently, it seems like you have decided not to send electoral assistance to the country. Can you say how the first of those are consistent with the commitments made to the UN, and your commitment to stay on top of this issue?
Ban Ki-moon: On Sri Lanka, their promise, President [Mahinda] Rajapaksa's promise is that by the end of January this year, his Government will have all the remaining displaced persons in the camp resettled, reintegrated into their native homes or some other place. I am going to discuss this matter with the Sri Lankan Government. I hope that they will keep their promise.
(For updates you can share with your friends, follow TNN on Facebook, Twitter and Google+)