Sri Lanka's ex-army chief gains poll edge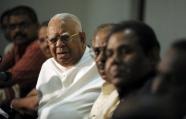 Sri Lanka's former army chief received a boost to his presidential ambitions Wednesday when minority Tamil parties said they would back him against incumbent Mahinda Rajapakse in polls later this month.
A consortium of ethnic Tamil parties known as the Tamil National Alliance (TNA) announced in parliament that they were asking their community to vote for Sarath Fonseka who is seen as the main challenger to President Rajapakse.
Both Fonseka and Rajapakse are members of the majority Sinhalese community and if their candidacies split the Sinhalese vote, then support from the island's ethnic minorities, which usually vote en bloc, could tip the scales.
"We have decided that we shall not extend our support to president Mahinda Rajapakse," TNA leader R. Sampanthan told reporters. "We have decided to support the common opposition candidate Sarath Fonseka."
Both the main candidates have been trying to woo the minority vote, but Sampanthan said Fonseka had been the more "receptive" of the two.
The TNA, which was seen as a proxy of the Tamil Tiger rebels who were crushed in May last year, had called a boycott of the November 2005 presidential vote which was narrowly won by Rajapakse.
Fonseka, who is credited with leading the military drive against the Liberation Tigers of Tamil Eelam (LTTE), promised earlier this week to establish a completely civilian administration in the island's former war zones.
Rajapakse had called the early January poll to capitalise on popular applause for the victory over the LTTE, which launched its campaign for a Tamil homeland in 1972.
(For updates you can share with your friends, follow TNN on Facebook, Twitter and Google+)