UN's Ban Mute on Sri Lanka's Election Request, Impunity and Fraud Implicitly Accepted, UN Sources Say
The UN's conflicted stance on Sri Lanka has become more apparent in the run up to the Rajapaksas' January 26 snap election. Nine days ago, Inner City Press asked the spokesman for Secretary General Ban Ki-moon to confirm that Sri Lanka had requested some UN presence during the election, and to state the UN's response.
While the Spokesman, Martin Nesirky, did not answer this question for an entire week, Inner City Press has been told first by one, now by a second, top adviser to Ban Ki-moon that the UN would not be responding positively to the request.
One adviser said bluntly, we don't want to legitimize an election we have our doubts about. He added that the excuse the UN would give was that the request had come from Sri Lanka's electoral body, and not the Rajapaksa administration. At most, he said, the UN might send some informal representative of the Secretary General.
This seems a strange logic, to only accept elections help request from incumbent, who as with Hamid Karzai in Afghanistan are often the ones most actively making up fake voters and suppressing out of power candidates' votes. But it does seem to be the UN's position.
On January 5, Inner City Press asked Spokesman Nesirky about a request for electoral assistance from twenty opposition parties in Georgia, as well as for a belated answer to the week-old Sri Lanka question. On Georgia, Nesirky said that UN only accepts requests from governments.
On Sri Lanka, Nesirky acknowledged his Office's non-response for eight days, saying he had been seeking guidance, but had yet to receive it.
Later on January 5, Inner City Press spoke with another senior Ban advisor. He also indicated that the UN would not be saying yes to Sri Lanka. If this is so widely known in the UN's 38th — now 3rd — floor, why can the Office of the Spokesperson not say it, even after nine days? "The clock is ticking," Nesirky said on January 5.
It appears to some that the UN's game is to run out the clock on Sri Lanka's request.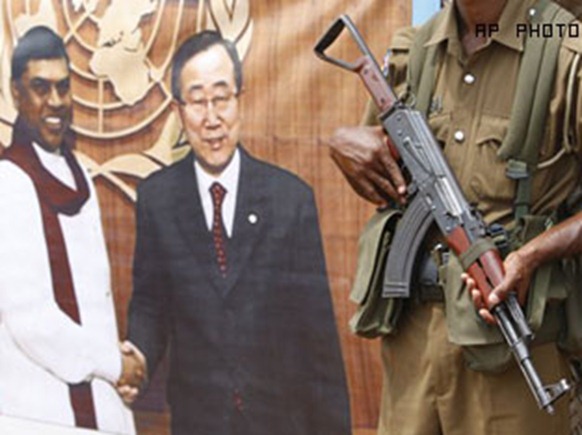 In Vavuniya internment camp, Ban's plastic image used by Sri Lanka
This comes in the context of Ban Ki-moon, after his whirlwind visit to Sri Lanka, where in the Vavuniya internment camp the government hung a large photograph of him shaking hands with Presidential brother Basil Rajapaksa (above), saying he would be monitoring Sri Lanka, for an inclusive political process.
  Now, as Mahinda Rajapaksa (with whom Ban has described himself as having a close relationship) calls a snap election to try to establish a family dynasty, the UN wants to look away, but doesn't want to admit it will look away.
Something of a wrench has been thrown into the Rajapaksas' plans by the candidacy of ex-General Sarath Fonseka, who has accused Presidential brother Gotabhaya Rajapaksa of ordering the shooting of Liberation Tigers of Tamil Eelam leaders who sought to surrender, after speaking with Ban Ki-moon's chief of staff as well as with Norway, waving white flags.
(For updates you can share with your friends, follow TNN on Facebook, Twitter and Google+)