On Sri Lankan War Crimes, UN Discloses Ban Expert Panel Idea, Election Snub Questioned
After the 2009 video depicting Sri Lankan soldiers shooting blindfolded prisoners was deemed credible in a detailed report Thursday by UN Special Rapporteur Philip Alston, Inner City Press asked the spokesman for UN Secretary General Ban Ki-moon if Mr. Ban would move to appoint a panel of inquiry, as he did to investigate the 157 people killed in Guinea on September 28, 2009. Video here, from Minute 45:21.
Mr. Ban's spokeman Martin Nesirky began by saying that since UN High Commissioner for Human Rights Navi Pillay had already called for an investigation of war crimes in Sri Lanka, there was no need for a similar call by Ban Ki-moon, "no need for a second track."
But when Inner City Press asked Nesirky to explain why Ban has been delegating Sri Lanka to Geneva, where given the make up of the Human Rights Council a resolution calling for an investigation like Richard Goldstone's of Gaza failed, Nesirky included in his response something it seems he should have stated from outset.
"The Secretary General has informed the government of Sri Lanka that he is considering appoint a commission of experts to advise him further and to assist the government in taking measures" on violations of human rights, Nesirky said. Video here, from Minute 48:20.
Inner City Press asked Nesirky WHEN Mr. Ban had conveyed this to the government of Sri Lanka, since Ban had made no mention of it in his response to Inner City Press' question to him the prior day on accountability and Sri Lanka. "I don't know," Nesirky said, committing to return with the information. Watch this site.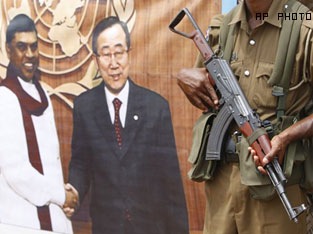 UN's Ban depicted by Sri Lanka in camps, experts not yet seen
Some are dubious of the UN's follow through on its call for accountabilty and an inclusive political process in Sri Lanka, given most recently the UN's rejection of playing any role in ensuring fairness in the January 26 elections. The reason Nesirky gave on July 6, a week after Inner City Press asked for the UN's response, was that it would require a General Assembly resolution and there wasn't time.
(For updates you can share with your friends, follow TNN on Facebook, Twitter and Google+)