S.Lanka presidential challenger vows press freedom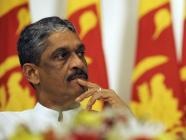 Sri Lanka's former army chief on Thursday launched his manifesto for the January 26 presidential elections, promising greater press freedom and a battle against rampant corruption.
Sarath Fonseka, 59, the main opposition challenger to President Mahinda Rajapakse, said he would scrap the press council which is empowered to shut down news organisations and would introduce a freedom of information act.
Fonseka has already announced he would, if elected, introduce laws to amend the all-powerful executive presidency and revert the country to a parliamentary democracy within six months.
"I will abolish the executive presidency, the press council and replace it with a freedom of information bill," Fonseka said in a speech.
Fonseka was himself accused orchestrating attacks against journalists when he was the army chief leading the military's successful offensive to defeat the Tamil Tiger rebels.
More than a dozen journalists and media workers have been killed in the past four years and several journalists have been arrested for cricitising the government.
Fonseka's campaign received a boost on Wednesday when the country's main minority Tamil coalition pledged support for him.
Rajapakse has also stepped up his campaign by granting salary increases to all teachers, raising pensions and slashing interest rates on agricultural loans.
The president had called the early poll to capitalise on the victory over Tamil Tigers, who launched their battle for a Tamil homeland in 1972.
(For updates you can share with your friends, follow TNN on Facebook, Twitter and Google+)