Sri Lanka general guns for economy in presidential run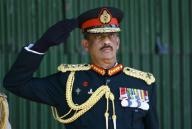 Sri Lankan presidential contender General Sarath Fonseka on Thursday laid out a platform to fight corruption and cut the cost of living, both of which he said had risen sharply under incumbent Mahinda Rajapaksa's rule.
Fonseka, who led the army to victory over the Tamil Tiger separatists in May, is running as the common opposition candidate against his former commander-in-chief, Rajapaksa, in a Jan. 26 election in the Indian Ocean island nation.
The career soldier has emerged as a serious contender, backed by a motley coalition of opposition parties whose divergent political interests have converged with the sole goal of unseating Rajapaksa.
"Life is harder under the Rajapaksas. Corruption, bribery, nepotism and ego-boosting extravagance are holding back the development of our country and hurting families," Fonseka told a news conference where he introduced his platform.
Three of Rajapaksa's brothers hold senior positions and the president himself has almost unchecked power.
Economically, Fonseka said he planned to increase agricultural exports to support rural families, cut "unwarranted taxes" on businesses and eliminate or lower fuel levies.
In keeping with a Sri Lankan election tradition of populist subsidies, he promised higher public sector salaries and welfare payments, both of which are supported by the Marxist Janata Vimukthi Peramuna (JVP) party that is one of his main backers.
The increasing cost of living and public sector salary disputes have dampened Rajapaksa's popularity, which seemed unassailable after he declared victory over the Liberation Tigers of Tamil Eelam (LTTE) after 25 years of war with Fonseka at his side.
The two have since fallen out over what Fonseka said was a post-war promotion to nowhere and false suspicion of a coup plot.
"I will restore democracy. I will eliminate corruption and help families by creating jobs, increasing incomes and lowering taxes and the cost of living," Fonseka said.
Opposition parties have grown angrier at what they see is heavy-handedness and intolerance by Rajapaksa's administration.
Along with the JVP, the main opposition United National Party has backed Fonseka and urged a sharp curtailing of presidential powers. The general said he would move to abolish the executive presidency within a month of taking office.
Fonseka got a boost on Wednesday when the Tamil National Alliance, the political proxy of the LTTE, gave him unanimous support despite his single-minded prosecution of the war to destroy the Tamil Tigers and kill off their leadership.
In a nod to Tamil concerns, Fonseka promised to register and resettle all people displaced by the war and prosecute, release or rehabilitate suspected Tamil Tigers now in detention.
It is a swift reversal for a man who advocated tough security measures while commanding the army .
Since the war ended, Fonseka has worked to soften his image to appeal to minority Tamil voters, many of whom still distrust the Sinhalese ethnic majority establishment of which the general has been a part for a four-decade military career.
(For updates you can share with your friends, follow TNN on Facebook, Twitter and Google+)