On Sri Lanka, Last Act of UN's Ban Was Three Months Ago, Despite War Crimes
The UN on Friday acknowledged that Secretary General Ban Ki-moon's most recent call for accountability for war crimes in Sri Lanka was more than three months ago. Video here, from Minute 13:19.
Since then, former general Sarath Fonseka has accused senior minister and Presidential brother Gotabhaya Rajapaksa of ordering the summary execution of surrendering Tamil Tiger officials, and video footage depicting Sri Lankan Army soldiers shooting blindfolded and naked prisoners has been authenticated by UN Special Rapporteur Philip Alston — yet Ban has done nothing more.
On January 7, Inner City Press asked Ban's spokesman Martin Nesirky:
Philip Alston… said that the Secretary-General, he believes, has the power and should appoint such a panel as he has done in the case of Guinea, for example. What's the Secretary-General's response? …Will he do what Mr. Alston is suggesting?
Mr. Nesirky answered that
the Secretary-General has informed the Government of Sri Lanka that he is considering the appointment of a Commission of Experts to advise him further and to assist the Government in taking measures to address possible violations of international human rights and humanitarian law
Most media took this at face value, and reported that alongside Alston's findings and Fonseka's accusation of war crimes, Ban was somehow raising the pressure or scrutiny on Sri Lanka. This is not true, however.
Essentially, in response to a UN Special Rapporteur urging that Ban at least appoint a panel of inquiry into war crimes and the death of tens of thousands of civilians in Sri Lanka, as he unilaterally in response to 157 deaths in Guinea, Ban's spokesman said that Ban has told the government he might do this in Sri Lanka.
But after Inner City Press asked when, specifically, Ban had communicated this to the Rajapaksa administration, Nesirky had to belatedly acknowledge that it had been in mid-September. Since then, it seems clear, nothing has been done.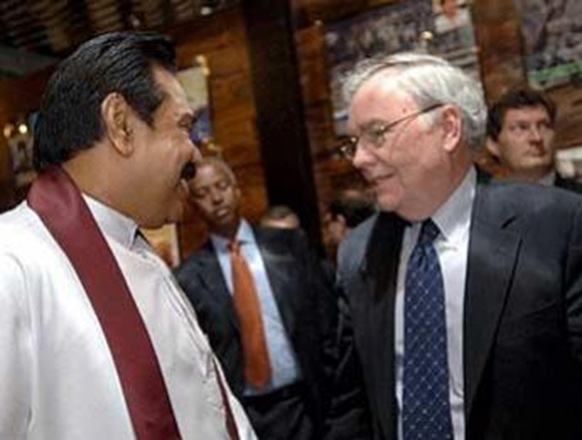 UN's Pascoe with Mahinda Rajapaksa, letter and follow up not shown
Inner City Press asked, how long can consideration be described as active without it resulting in anything? Video here, from Minute 15:04. Nesirky responded that since September, when they received Ban's letter from his political advisor Lynn Pascoe, the Sri Lankan government "will have been considering it."
But this has had no, or even negative, results. Following Alston's January 7 authentication of the summary execution footage, Sri Lankan President Mahinda Rajapaksa said conclusorily that his "security personnel haven't been involved in any misconduct," and complained that Alston had "breached UN protocol" by not showing them his report before going public. Since this was described in many news articles as Sri Lanka accusing the UN of violating protocol, Inner City Press asked Nesirky about it in this way. Video here, from Minute 15:41.
(For updates you can share with your friends, follow TNN on Facebook, Twitter and Google+)