Sri Lanka's Tamil Tiger suspects 'won't be freed soon'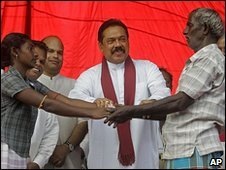 Thousands of Tamil Tiger suspects in government custody will not be released soon, a Sri Lankan minister has said.
Power and Energy Minister WDJ Seneviratne said there were a "considerable number of suicide bombers" among the 14,000 detainees.
A military spokesman said there were fewer than 12,000 suspects in custody.
In May, Sri Lanka's army defeated Tamil Tiger rebels who had been fighting for a separate homeland for the country's Tamil minority for 26 years.
Speaking to journalists in Ratnapura, Sabaragamuwa province, Mr Seneviratne said some 14,000 suspected members of the Liberation Tigers of Tamil Eelam, or LTTE, are being held in various detention centres.
"These people are not somebody we can release soon, because some of them are suspected to be connected to very serious incidents," he said.
He added that "a considerable number of suicide bombers" are among the detained.
However, military spokesman Brig Udaya Nanayakkara told the BBC's Sinhala service that just over 11,000 LTTE suspects are in custody, following the release of 712 former LTTE combatants on Saturday.
The reason for the discrepancy was not immediately clear.
Disputed video
The main opposition candidate in Sri Lanka's presidential elections on 26 January, former military commander Gen Sarath Fonseka, has pledged if elected to release all LTTE suspects within a month if no evidence is found against them.
The Tamil National Alliance (TNA), the major Tamil party in Sri Lanka's parliament, said it would support Gen Fonseka's candidacy days after he submitted a proposal named "Immediate Relief Measures for War Affected Persons," which included the pledge to release the LTTE members.
Mr Seneviratne also accused international community of trying to "corner Sri Lanka" on war crimes charges, a reference to claims that a recently aired video shows extra-judicial killings by Sri Lankan troops.
Sri Lanka has angrily rejected UN claims that the footage, which was allegedly shot in January during the final stages of the Sri Lankan conflict, is genuine.
Mr Seneviratne claimed that UN Secretary General Ban Ki-moon was under pressure to take action against Sri Lanka, after a UN human rights official called for a war crimes investigation.
Sri Lanka's conflict left more than 70,000 people dead and many more displaced.
The government recently opened camps for the displaced in the country's north to allow them to return home.
(For updates you can share with your friends, follow TNN on Facebook, Twitter and Google+)