Satellite imagery evidence of Hospital attack recorded in Dublin
Do the facts made available to the Dublin war-crimes tribunal on the available direct and circumstantial evidence that between 9 January 2009 and 25 March 2009, in areas in or nearby Puthukkudiyiruppu (PTK) Hospital, legally establish that the Sri Lankan Army (SLA) committed, purposely or knowingly, via act or omission, war crimes against Tamil civilians? – was the legal question presented to the tribunal. "The legality of evidence, currently available and to be discovered in the future, and the question of culpability of Sri Lanka of war-crimes, are likely to continue well beyond Dublin," said a spokesperson for the US-based pressure group, Tamils Against Genocide (TAG), on the attack on the PTK hospital during the early months of 2009.
PDF: Report: Satellite images confirm PTK attacks (5Mb)
"The presentation in Dublin on Satellite Image Analysis on PTK Hospital is the first step in making the international institutions known the type of legally acceptable evidence that can be gathered from the battle areas which were deliberately kept isolated from news organizations and NGOs by the perpertrator of war-crimes, the Sri Lanka Government. Other hospitals, destruction of schools, places of worship will be examined and evidence collected as the followup step. TAG is also examining if the courts can be convinced to extend the legal doctrine of "spoliation" when the perpetrator of crime is a state actor who deliberately destroyed evidences of the crime," said spokesperson for TAG.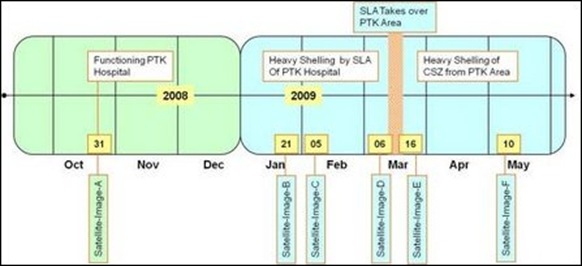 PTK attacks time line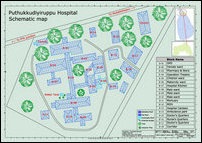 "Between January and March 2009, under the pretext of post-9/11 counter-terrorism, the SLA carried out a widespread and systematic pattern of attacks targeting directly or indirectly areas in or nearby PTK Hospital during times the compound was demonstrably functioning as a hospital. In this time frame, it is reported the attacks in or nearby PTK Hospital killed at minimum 467 Tamil civilians, severely injured at minimum 862 Tamil civilians, and generally denied medical care to the combatant and non-combatant community affected by the attacks during and after its perpetration, creating conditions of life equally precipitating fatality of Tamil combatants and Tamil non-combatants," the report presented to the Dublin war-crimes tribunal notes in the executive summary.
The report also provides the transcript of the interview Sri Lanka's Defense Secretary Gotabaya Rajapakse gave to British Broadcasting Corporation Sky News (BBC SN)2 which aired on the UK-based British Broadcasting Corporation (BBC), where the Defense Secretary implicitly asserted that military attacks on hospitals outside a government-designated Safe Zone or No Fire Zone are legitimate.
Noting Professor Francis A. Boyle's statement that "the deliberate targeting of Hospitals and Civilians violates the Geneva Conventions and is thus a war crime," and that culpable U.S. citizens in Sri Lanka should also be prosecuted by the United States Government for violating the U.S. War Crimes Act," the report, using six satellite maps and evidence presented by the US State Department report, establishes:
the PTK Hospital compound was attacked by the SLA
the PTK Hospital compound was functioning as a hospital at least during some of these SLA attacks
at least 467 Tamil civilians were killed and at least 862 Tamil civilians were seriously injured.
it remains to be verified how many died due to deprivation of medical care caused by indiscriminate SLA attacks on the general PTK area, including the PTK Hospital compound.
The report uses differentials identified in terms of specific buildings within the PTK hospital compound in five different time windows and correlates the events to those identified in the US State Department reports, and reports by Rights organizations. The analysis focuses on the following time windows:
Differential #1: 10/31/2008 – 01/21/2009
Differential #2: 01/21/2009 – 02/05/2009
Differential #3: 02/05/2009 – 03/06/2009
Differential #4: 03/06/2009 – 03/16/2009
Differential #5: 03/16/2009 – 05/10/2009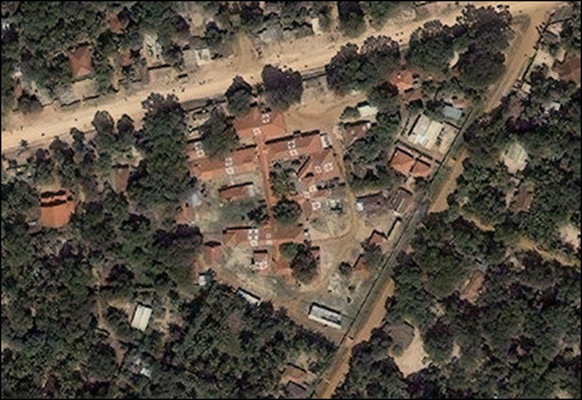 PTK buildings before SLA attacks (31 Oct 2008)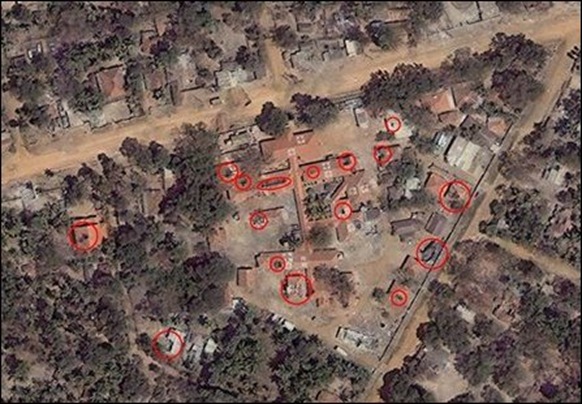 PTK buildings after SLA attacks (06 March 2009)
The Dublin presentation concludes:
The SLA and Sri Lankan state agents, in a joint criminal enterprise with common criminal purpose and design and which operated under the military command responsibility of multiple persons, including but not limited to President Mahinda Rajapakse, Defense Secretary Gotabaya Rajapakse, former Lt. General Sarath Fonseka, Brigadier Rohana Bandara, Brigadier Satyapriya Liyanage, Brigadier Nishantha Wanniarachchi, Brigadier Shavendra Silva, and Brigadier Jegath Dias, carried out through affirmative act or culpable omission, a disproportionate, indiscriminate, widespread and systematic pattern of direct or indirect attacks on areas in or nearby PTK hospital inside a neutralized government-designated Safe Zone between at least 01/09/2009 and 03/05/2009, which caused the deaths of at minimum 462 Tamil civilians, and which severely injured at minimum 867 Tamil civilians.
During times within which PTK hospital was functioning as a hospital, these attacks targeted Tamil combatants and Tamil non-combatants inside and outside PTK hospital without distinction.
It is reasonably inferable from the available and preponderant body of admissible evidence – including TAG satellite imagery, TAG eye witness testimony, WWW video footage, WWW land-based photography, human rights reports – that these attacks were committed by the joint criminal enterprise in violation of customary IHL (International Human Rights Law).
(For updates you can share with your friends, follow TNN on Facebook, Twitter and Google+)