Sri Lanka's Tamils wary of election spotlight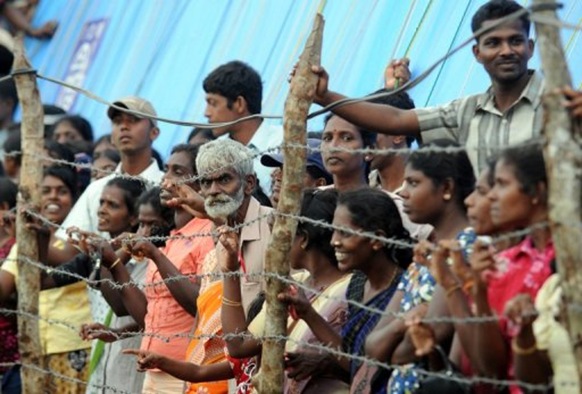 Scarred by decades of war and official indifference, Sri Lanka's minority Tamils are now being courted as political kingmakers — a shift that many of them view with bitter scepticism.
With a presidential election just two weeks away, the two main candidates have been desperately wooing Tamil voters, offering them the same social, economic and political opportunities enjoyed by the Sinhalese majority.
The incumbent president, Mahinda Rajapakse, and his main challenger, former army chief Sarath Fonseka, are both Sinhalese.
If they split the Sinhalese vote, then the support of the Tamil electorate could prove decisive. Hence their overtures to a community that for the most part views both men with deep suspicion.
"Having bombed and shelled us, and restricted the Tamil community's movements for years, they are now asking us to vote for them," said social worker K. Radhakrishnan, as he bought some flowers outside a temple in the northern Tamil heartland of Jaffna.
Both Rajapakse and Fonseka played pivotal roles in the military victory last year over Tamil Tiger rebels that ended a bloody, decades-old separatist insurgency for an independent Tamil state.
The conflict took a heavy toll on the Tamil civilian population — 7,000 people are estimated by the UN to have died in the final months — and for many in Jaffna there is a bitter irony in their new-found significance.
"All of a sudden, we seem to be important to Sinhalese politicians," said retired postmaster G. Sinnathurai, who was shopping on the streets of Jaffna.
Rajapakse and Fonseka have promised better livelihoods, greater freedom of movement and a pipeline of infrastructure projects to rebuild the war-torn Jaffna region.
But G. Subash, who runs a local grocery store, says he has heard little to get excited about.
"If you listen to them closely, neither candidate has promised us a power-sharing agreement. Voting for the general (Fonseka) or the president will be like changing a pillow to cure a headache," Subash said.
Christian missionary R. Bastian, who has been working in Jaffna for nearly two decades, said the main dilemma facing northern Tamils was that they had "suffered under the hands of both main candidates."
The choice between them is the only realistic choice despite a full field of candidates. No other contender has a hope of winning.
So for the moment, the Tamil community seems to be veering, albeit with some reluctance, towards Fonseka, who is very much seen as the "opposition" candidate.
Last week, a consortium of ethnic Tamil parties known as the Tamil National Alliance (TNA) announced in parliament that they were asking their community to vote for the retired general.
In what amounted to an underwhelming endorsement, the TNA, which was once viewed as the political puppet of the Tamil Tigers and boycotted the 2005 presidential election, said it felt Fonseka had appeared more "receptive" to Tamil grievances.
Despite the lack of a candidate Tamils can genuinely rally behind, the influential Roman Catholic Bishop of Jaffna, Thomas Savundranayagam, said it was important for the community to make their mark at the ballot box.
"They must go out and vote," said Savundranayagam, whose opinions hold sway beyond the minority Christian population.
Fonseka, who is backed by a loose coalition of political parties, has promised the military will return private land and houses it occupied during the conflict with the Tigers and compensate owners for any damage.
(For updates you can share with your friends, follow TNN on Facebook, Twitter and Google+)