Defection scandal generates heat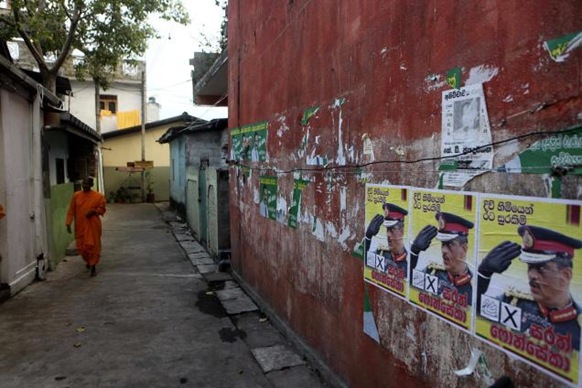 Even as a third death, supposedly connected to the crucial January 26 presidential election was reported, the "scandal" over the attempt by the opposition to bribe a ruling party legislator to defect to its camps took a bizarre turn on Monday.
The ruling party legislator who had accused campaign managers of the opposition consensus candidate, Gen. (retd.) Sarath Fonseka, of offering him Sri Lanka 300 million Rupees to defect on Monday gave a statement to the CID after lodging a formal complaint with the Bribery Commission against the former Army Chief. The opposition filed a counter complaint.
Meanwhile, after some of the campaign managers of Mr. Rajapaksa had claimed that the bribe money had been provided by the U.S. and Norway, missions of the two countries here asserted that they remained neutral.
Observers and diplomats here had anticipated the heat in the run up to the crucial election given the high stakes. The fight, mainly between Mr. Rajapaksa and the retired General, is being watched keenly within and outside for a number of reasons.
Hence, the last week of campaign of what is billed as one of the most vituperative polls in the independent history of the island nation could end up with more charges and counter-charges.
Wimal Weerawansa, a leading campaign manager of Mr. Rajapaksa, said at a news conference here he had photographic and audio evidence to prove the role of UNP National List and Muslim presidential candidate, MP Myown Mustapha, and presidential advisor Nazeer Ahmed in the attempt to bribe.
Mr. Mustapha quit the presidential race last Friday in support of General Fonseka.
The main opposition United National Party (UNP), backing the ex-General, on the contrary claimed that the ruling party legislator Muzammil is now regretting his own actions.
"Now, after we have gone to the Bribery Commissioner and complained that this incident must be investigated for taking a bribe and giving a bribe are both offences punishable under the law, Muzammil and his evil mentor are in a dire mess," Ravi Karunanayake, a key campaign manager of General Fonseka, told the media.
"He and the others whom Muzammil has mentioned as having offered bribes have already sent letters of demand through their lawyers, each claiming Rs. 1000 million as compensation for damage to character inflicted on them by these allegations," said the UNP leader.
Since both the candidates represent the majority Sinhalese community and are credited with the military victory over the Tigers, the focus is bound to be on the choice of the Tamils that account for 12.5 per cent of the 20 million people.
A few months ago, the election of Mr. Rajapaksa was taken for granted.
(For updates you can share with your friends, follow TNN on Facebook, Twitter and Google+)