Trinco executions added to Sri Lanka's war crimes record in Dublin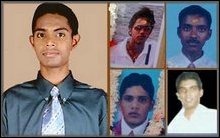 An affidavit containing the personal testimony of Dr Manoharan, the father of Ragihar, one of the five high school students shot dead in execution style in Trincomalee beach nearly four years ago by members of Sri Lanka security forces, and two detailed reports of evidence collected on the killings by a Rights Group whose members are in self-exile due to threat to their lives, were submitted as record of evidence to the Dublin war-crimes tribunal hearing concluded on the 16th of this month, US-based pressure group Tamils Against Genocide (TAG) said Tuesday.
TAG Report: Trincomalee executions
Dr Manoharan and the surviving members of the family were relocated to UK with the assistance of a UN organization after the killings to escape intimidation by the Sri Lanka security forces against Dr Manoharan legally pursuing the killers of his son.
The report documents the names and the date of birth of the five students killed on 2nd January 2006 in Trincomalee, a big harbor town under the control of and heavily garrisoned by the Sri Lanka security forces, as:
Manoharan Ragihar 22.09.1985
Yogarajah Hemachchandra 04.03.1985
Logitharajah Rohan 07.04.1985
Thangathurai Sivanantha 06.04.1985
Shanmugarajah Gajendran 16.09.1985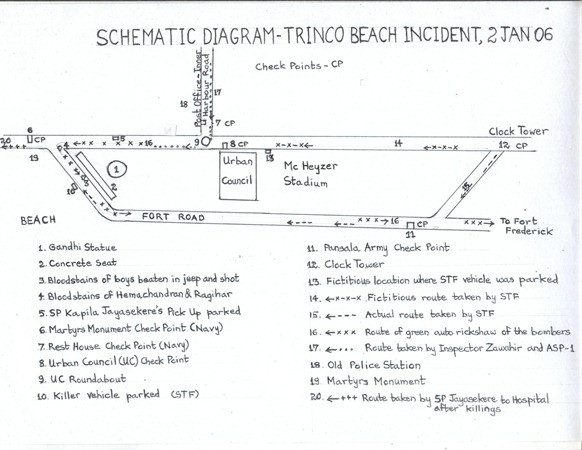 Dr Manoharan's affidavit details the events of 2nd January 2006 from the time Ragihar left his home at 6:00 p.m. to vist the Ganesha temple to attend the Hindu's customary festival during new year fasting, the hearing of explosion at around 7:35 p.m., Ragihar's call to his father on the cell phone informing him that soldiers were around him, desperate and failed attempts to get through the checkpoint to see if his son was there near the Gandhi statue, to the time he identified Ragihar's body in the hospital.
The affidavit further describes the interaction with the security forces and the attempt by Minister of Human Rights Mr Samarasinghe in April of 2006 offering Dr Manoharan family a "nice house in Colombo," "a nice school" for his children, encouraging him to "move on after the incident."
The report identifies Superintendent of Police, Kapila Jayasekere, naval officer Udawatte Weerakody, "leader of the killer team" Vas Perera, DIG Abeywardena, and DIG and JHU member HMGB Kotakadeniya as culpable individuals for the crime among other higher level officials, military and political, who bear command responsibility established by the Hague Conventions IV (1907) and X (1907) for war crimes.
Two complete investigative reports, published on 19th April 2007 and 2nd January 2010 produced by UTHR, a Rights Group in Sri Lanka whose members are in exile, were included in the submission to provide the tribunal judges a full account of information available on the alleged war-crime by Sri Lanka security forces.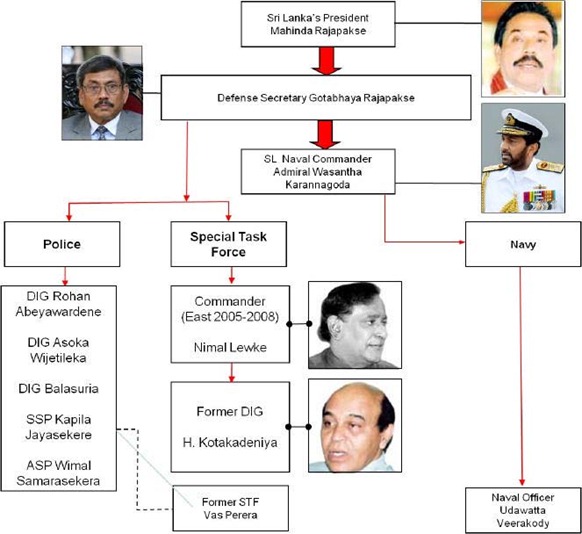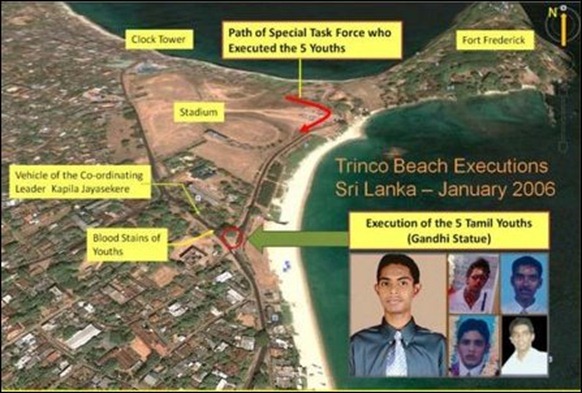 [Full Coverage]
(For updates you can share with your friends, follow TNN on Facebook, Twitter and Google+)