Shattered Tamil city braces for crucial poll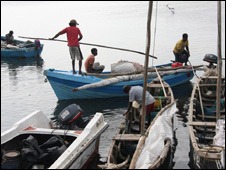 The fishing boats seem to chase each other out in the lagoon. A flock of seabirds rises, glorious against the blue sky.
Calm has returned to Jaffna's waters after decades of turbulence.
It is still a tense peace. The bay where they repair their boats is cordoned off, guarded by the military. Parts of the shore are lined with razor-wire.
But as the vessels crowd into the wharf by the fish market, there is a real buzz in the air.
The men weigh their crabs and cuttlefish, hack the big meaty fish into steaks, bargaining, bartering.
A young fisherman tells the BBC he is delighted with peace in the north. Restrictions have been lifted, he says: they can sail to more places; export their fish abroad; find more markets at home, too.
And he is enthusiastic about the 26 January election.
The two main candidates, President Mahinda Rajapaksa and the former army chief (and former northern commander), General Sarath Fonseka, are both widely viewed as hardline advocates for the island's Sinhalese ethnic majority – people instrumental in vanquishing many Tamils' desire for an autonomous homeland.
But the election is relevant to Tamils, too, says the man.
"It's important to vote – after all, this is for our president.
"Earlier we were voting under threat. Now we're free, and people can decide for themselves who's good for this country.
"The Tamil Tigers and the government fought – we were the innocent victims," says another. "We'll support whoever will benefit ordinary Tamil people."
No election fever
Jaffna was the crucible of the Sri Lankan war. Its imposing public library was attacked by anti-Tamil mobs in 1981 and its great collection of books burned: one symbolic trigger for the start of full-blown conflict a couple of years later.
In 1990 the Liberation Tigers of Tamil Eelam (LTTE) expelled all of Jaffna's Muslims. For five years the rebels held the city and the army besieged it.
The war's legacy is still plain to see in bombed-out buildings. By the coast, we meet local de-miners on their break.
In a converted cinema, well guarded, is the bunker-like office of Douglas Devananda.
His Tamil party is part of the Sri Lankan government; he is a minister. He rejects the many accusations that it still has a paramilitary wing using violence against civilians.
And he tells the BBC President Rajapaksa deserves re-election for bringing peace.
"You know, in the previous Christmas or New Year sounds were something different, that is mortars, explosions, people were crying. But last Christmas, New Year, [fire]crackers. People's joyness coming out. The laugh, the smile.
"So that is a difference. So people feel President Rajapaksa has given peace."
But this almost entirely Tamil city is not being swept by election fever.
The two main candidates have recently visited, and campaigned. But in the central streets Jaffna still seems to be mainly concerned with picking up the old rhythms of normal life and getting back to business.
There is old-world charm. Morris Minor taxis wait in a rank. Vintage Austins appear around corners. There is the new, too: men make a signboard for a new bank branch. Visiting from the south are Sinhalese Buddhist monks and Muslim families.
Electorally it does not seem to be a level playing field.
Posters of Mahinda Rajapaksa are everywhere. The BBC saw none of his rival, Sarath Fonseka. We were told people were frightened to put them up, fearing violent reprisals.
Recently, too, the government shut down the Jaffna transmissions of the Tamil TV station regarded as the most independent.
Tamil concerns
Some in the Tamil community do want the president out and are supporting Sarath Fonseka.
The Tamil National Alliance (TNA), a grouping close to the defeated LTTE, feels the former army chief is more likely to find a solution to Tamil concerns, perhaps giving an extra degree of autonomy to Tamil-majority areas.
CVK Sivagnanam, president of the local Council of Non-Governmental Organisations, used to be an active TNA member and says it is an advantage that the general does not come from a political party, so will not be powerful if elected.
"He will be forced to consult minorities as well," he says. "And the present government, the Rajapaksa government, has done so much damage to minorities – whether it be Tamils, Muslims or Christians, it has been so."
Which way to vote is a question perhaps on the mind of Sunday morning worshippers in Jaffna's many Catholic churches.
At one, the long-time Bishop of Jaffna, the Right Rev Thomas Savundaranayagam, officiates. He has publicly urged people to exercise their right to vote – although he feels neither candidate is really addressing Tamil people's wish to live as equal citizens.
"Both these people in their manifestos, they have not put forward a political solution to the north and east problem but only they have concerned themselves with the aftermath of the war as well as rebuilding the country," he tells the BBC on the cool veranda of his residence.
"Which we will commit [to] but nevertheless we would give a priority to the political solution, about which both the candidates are rather silent."
No refugee votes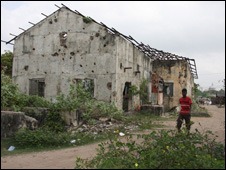 There is another huge issue. Jaffna has many Tamil war refugees, recently freed from government camps. Others remain in camps nearby but the BBC was not allowed to visit them.
Many missed out on registering to vote because of war and displacement. Some registered while in camps but returned home before the voting cards arrived.
We meet a man who recently left the huge Menik Farm camp and wanted to remain anonymous.
"I'm very sad I can't take part in selecting the next president," he said. "There are 10 million voters but unfortunately my name won't be there because circumstances prevented me from registering."
In Jaffna the government is firmly in charge – as in the whole of Sri Lanka. The military are ubiquitous. During the BBC's two-day visit there were several government events apparently linked to the election, including a Tamil harvest festival celebration.
People attend such events politely. But it is hard to tell how many will turn out to vote.
Many feel little empathy with either candidate. Some fear voting.
But the Tamil population – only one-eighth of the island's inhabitants – could yet swing the result in a close-run contest.
(For updates you can share with your friends, follow TNN on Facebook, Twitter and Google+)