Sri Lanka prepares to vote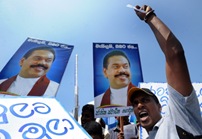 This would have to be one of the more intriguing presidential elections the world has ever witnessed. The two leading candidates for the top office in Sri Lanka are the incumbent Mahinda Rajapaksa and the retired army General, Sarath Fonseka.
The election on January 26 will be the first since the end of the civil war in May 2009, when the Rajapaksa government overcame the rebel Tamil Tigers who'd been fighting for an independent state for 26 years.
If many of the experts are to be believed, the ethnic majority Sinhalese population is split between the two former allies. If that's the case, the deciding votes may come down to the minority Tamil community, many of whom suffered greatly during the war, particularly during the final stages, when thousands of civilians are believed to have died in the north of the country.
So who do the Tamils vote for? A tick for Rajapaksa is a tick for the man who ordered that final assault, and then prevented around 245,000 Tamils from returning to their homes.
A vote for Fonseka is a vote for the man who was in charge of the army at the time. Most of the senior political leaders in the Tamil community have thrown their support behind Fonseka in a move that's believed to be more a vote of no confidence in the incumbent than a vote of confidence in his challenger.
Aside from the biggest question of all – who to vote for – Sri Lankans are wondering just how free and fair this election will be.
There are already many laws being broken, such as large hoardings featuring the contenders being left up around the nation when they were supposed to be removed a month ago.
There have also been three people killed in election-related violence, raising concerns about intimidation tactics being used as polling day draws closer.
(For updates you can share with your friends, follow TNN on Facebook, Twitter and Google+)