Bomb attack in Sri Lanka capital ahead of vote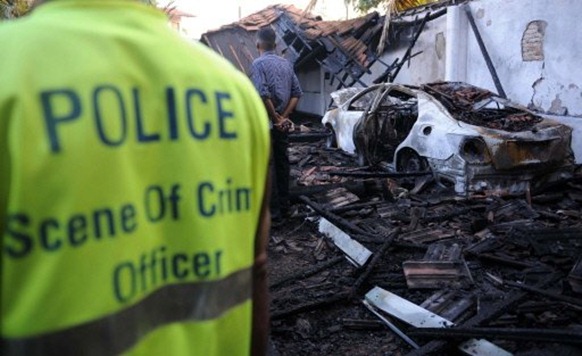 A key opposition activist in Sri Lanka was targeted at home by a bomb early Friday, police said, despite tighter security ahead of next week's presidential election.
The blast destroyed a car and severely damaged the home of Tiran Alles, a key ally of presidential candidate Sarath Fonseka, police said, adding that he and his family had escaped unhurt.
"The attackers are believed to have come in a van and carried out the attack and fled," a police official at the scene said, adding that no arrests had been made in connection with the pre-dawn bombing.
An opposition spokesman alleged Alles had been targeted by the ruling party after Fonseka's campaign released a photograph of President Mahinda Rajapakse's eldest son Namal with a Tamil rebel leader at a London nightclub.
Rajapakse's reputation as a war-hero president is staked on his victory over the Tamil Tiger rebels last year, who were wiped out in a huge government offensive after 37 years of fighting.
"Since the photograph showed some sort of a link between the president's family and the Tamil Tigers, Alles had been receiving death threats," the spokesman said. "Even yesterday, we complained that he could be targeted."
International concern over escalating election-related violence has mounted, with United Nations chief Ban Ki-moon on Thursday expressing alarm over the increasing number of violent incidents and killings.
Ban urged all Sri Lanka parties and their supporters "to show restraint and refrain from violence, to adhere to the electoral laws and rules, and to avoid provocative acts throughout the election period and its aftermath."
The independent Election Commissioner Dayananda Dissanayake was quoted as saying Wednesday that he had stopped giving directives to the police and public officials who disregarded his orders aimed at ensuring a free and fair vote.
Rajapakse called next Tuesday's vote two years ahead of schedule in a bid to cash in on the government's defeat of the separatist Tamil Tiger rebels after decades of ethnic warfare on the island.
(For updates you can share with your friends, follow TNN on Facebook, Twitter and Google+)