Displaced Tamils demand a better life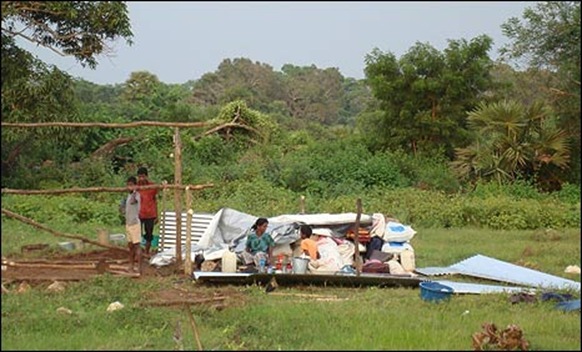 For thousands of Sri Lankan Tamils there is only one issue that really matters in next week's presidential election – their rehabilitation after months in government-run camps.
They were kept in these camps after they were displaced in the final bloody phase of Sri Lanka's 26-year civil war, which ended in the defeat of Tamil Tiger rebels fighting for a separate homeland.
Many have now been released from the camps in the northern Vavuniya district and resettled. But they say they lack the basic facilities to rebuild their lives.
"My house was completely destroyed. I was given five tin sheets and 25,000 rupees ($220) in cash. I lost my cattle. There are no jobs here. It is difficult for me to support six members of my family," says Kandhan, who lives in the Mullaittivu district.
Kandhan – who before his internment earned a living by buying and selling scrap metal – says that his request to restart his trade has yet to be approved.
Numerous small shopkeepers wanting to restart their businesses face the same predicament.
Dry rations
The government had until recently resisted international calls to speed up the release and rehabilitation of those held in camps.
It said that it needed more time to rebuild infrastructure and complete de-mining.
But recently the authorities finally allowed people from villages to the west of Sri Lanka's key A9 road in the north to go back to their ancestral homes.
Each family was provided with a small sum of money and dry rations for six months.
They were also equipped with bamboo sticks and tin sheets to set up temporary shelters.
Officials say loans are given through banks to allow people to start new ventures, particularly farming.
But locals say their farmland is full of wild shrubs now and it will take many months of hard labour before the fields can once again become productive.
Some hospitals and schools in these areas have re-opened. Mobile phone connections are also working. But public transport between the villages and the nearest big towns is inadequate.
"Many houses are partly or completely destroyed. People are putting up tents in the fields and living there. There is a shortage of water. There is no electricity in the villages," says one government official who frequently goes to these areas.
'Difficult life'
But the minister in charge of re-settlement, Rizath Bathiyutheen, dismisses these complaints.
"No other country would have resettled so many people in such a short span of time," he said.
"We have repaired public buildings like schools and government offices, improved road conditions and de-silted some wells before sending people back to their homes.
"There is a shortage of water in many areas in the region and we are trying to sort out this problem. For years, many of the villages in these areas never had electricity. It may take sometime to provide it."
The government has since December been granting permission to the camp inmates to go out and stay with their relatives.
Fifty-eight-year-old Ramalambikai used the scheme to come out of the camp where she was detained. Now she is living with her relatives in Mallavi.
"The government has not cleared our area for resettlement," she said.
"My family still lives in the camps. I am happy to come out. Here life is difficult, groceries are very expensive. But we are able to cook and eat peacefully."
'Suffering and pain'
Some are struggling to come out of the shock of the war and prolonged internment in the camps.
"I lost my father in the war," says another woman.
"My 10-year-old daughter was injured in a shell attack. My sister lost her two-year-old daughter and her husband in the war.
"Because of this suffering and pain we didn't want to come back to this place. But we have nowhere to go."
Local non-governmental organisations (NGOs) claim that they can provide more assistance to the needy if the government gives them access to northern areas.
The authorities have now given permission to international aid agencies like the World Food Programme, the International Organisation of Migrants and the UN High Commission for Refugees.
"We have asked the NGOs to provide us with proposals regarding what they intend to do. We want to define the areas of work before giving them permission. We don't want a duplication of work," says Mullaitivu government agent Emelda Sukumar.
Even as the revised government target for re-settling all displaced Tamils before 31 January fast approaches, there is no word yet on when it will take place in other camps adjoining the towns of Kilinochchi and Mullaittivu.
These places bore the brunt of the fighting and for the moment senior officials in these towns continue to operate from Vavuniya.
(For updates you can share with your friends, follow TNN on Facebook, Twitter and Google+)