EU's Ashton "Concerned" By Rights in Sri Lanka, On Election, No UN Ban Follow Up
The European Union's new High Commissioner Catherine Ashton appeared at the UN on Friday, and was asked by Inner City Press about Sri Lanka in the run up to elections, and about the GSP Plus tariff reduction program, whether the EU would curtail it for Sri Lanka. Video here, from Minute 4:05.
Baroness Ashton responded that, while she was Trade Commissioner, GSP Plus had been a concern. "If we have a scheme, where we award the way we operate directly because of… treatment of people and human rights, if that falls short, it should be re-examined."
She said that she was "very concerned" and had recommended that GPS Plus benefits for Sir Lanka "perhaps should be reconsidered."
She did not, however, comment on violence in the run up to the January 26 election, nor on reports that Mahinda Rajapaksa has required cell phone companies to send out text messages supporting him.
Inner City Press had asked if the UN's Ban Ki-moon had any view on the pre-election violence and intimidation. Days later, Ban's spokesman read out a statement that Ban remains concerned. But since the statement, a major opposition supporter's house has been attacked with hand grenades. At least five are dead and dozens injured. And from Ban, nothing.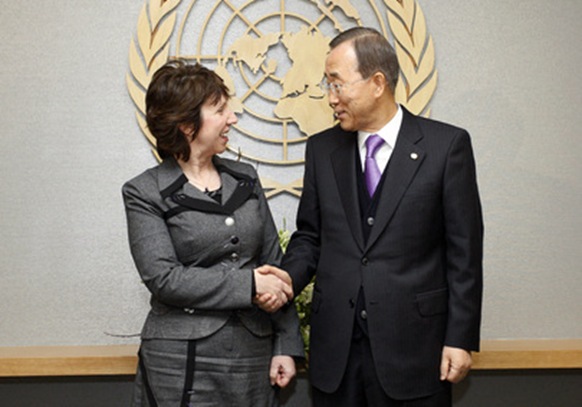 EU's Ashton and UN's Ban: the former on GSP+, the latter now silent
  His spokesman wouldn't even allow a question on January 22:
Inner City Press: Can I ask one more?
Spokesperson Nesirky: I'd like, actually, to see if there are others, and I think I would ask Jean-Victor to join us. Just please do join. But, one thing I did want to respond to was, you asked a question, Matthew, yesterday…
(For updates you can share with your friends, follow TNN on Facebook, Twitter and Google+)