Corrupt politicos would have the door open to Welikada
- Fonseka
The Common Opposition Candidate Gen Sarath Fonseka says he will win the election by a ten per cent lead. "If the election is held today, I will win" he says. But he cautions that that there is an organized attempt to rig the election island-wide, and especially in the Jaffna peninsula, where recent transfers of military top brass have raised suspicions. Gen Fonseka spoke to Ranga Jayasuriya on a gamut of issues ranging from his campaign promises, president's duplicity, purported anxieties of an Idi Amin in the making, to the alleged agreement with the Tamil National Alliance.
Excerpts: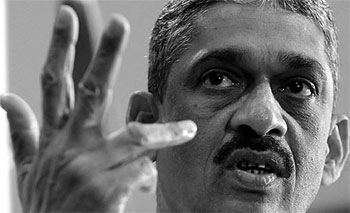 You have promised to abolish the executive presidency. Can you do it by yourself?
I can't do that alone. A two third majority in parliament is required to make changes of that nature in the constitution. Therefore, there will be certain immediate changes after my election, such as reactivating of the 17th amendment, dissolving the government and appointing a care-taker cabinet. Then, we will go for a general election and win the 2/3 majority necessary to abolish the executive presidency.
How do you feel the difference between military life and politics based on your experience in the first 40 days in politics?
It (politics) is a responsibility just as the other one — military, is. We fought a war in the military and this one is also a kind of a war. The difference is that the army is an institution which is disciplined and punctual and things happen on orders from the top. Here it is a bit different. There are desparate political groups. We have to conduct our election campaign amidst a mud slinging campaign, political duplicity and thuggery by my opponent. There are attempts to terrorize the public and rig the election. But we will conduct our campaign on principles and have no doubts, we will win the election.
My editor interviewed the President earlier this week and the President has told him that it was your party which is unleashing terror on his supporters…
Does he (President) think people of this country believe what he says?. When he has defence forces and police with him, he should stop opposition activists if they terrorize his people.
How do you feel about the public response to your campaign?
I am well ahead of Mahinda Rajapaka. If election is held today, I will win. Rajapaksa has already conceded the defeat and is trying to stuff the ballet boxes.
Did you expect public support of this magnitude when you embarked into politics?
I was requested to run for the presidency by the political party leaders. They came to me and requested me. That request was made because I enjoyed public support.
What are your chances of winning?
If 85 per cent of people vote, I will take 55 per cent against Rajapaksa's 45 per cent.
You have disparate political groups, such as UNP and JVP who have professed totally opposite political views. How do you balance these competing interests?
We have agreed on a common single agenda on which our manifesto was based. Among them are eliminating corruption and nepotism, abolishing the dictatorial executive presidency, restoring democracy, de-politicization, good governance and economic prosperity. We agreed on these issues and we realized why we could not achieve any of these things. It is due to dictatorial tendencies and endemic corruption and nepotism practiced by the incumbent. We agreed that this should end and democratic values should be restored. That is the unanimous agreement and I will make that happen after my election.
Jaffna vote would be a deciding factor. Are you sure that there will be free and fair voting in Jaffna and the rest of the north and east?
The government is trying to rig the election everywhere. That's why the Jaffna military commanders have been changed without any reason. Some of them have been called to Colombo, including the security forces commander Jaffna. They have put a rogue in his place. This man was allegedly accused of taking money from a LTTE suspect who was arrested in Kollupitiya. The LTTE operative has even paid for the car of this man when he was the Brigade Commander, Colombo. He is a rogue, but he is Defence Secretary's right hand man. He was in Kilinochchi and now he has been assigned to Jaffna also. The Jaffna man was nominated to go to Bangladesh on the election day itself and he was relieved from duty weeks before that. Normally, an officer going abroad would be relieved of duty only three days before the departure. Then the Division Commander of Vadamarachchi has been called to Colombo and attached to the KDA ( Kotalawala Defence Academy). That division is without a GOC now. All this had been done to rig the election. But with all this, police is playing straight; they are with us. Although the Government appoints corrupt GOCs, the majority of the army is with us. Those corrupt few are distributing leaflets posing as LTTEers and threatening the people against voting, like the LTTE did last time. They are terrorizing people so that they would not vote. In the South also, there is an organized campaign to intimidate people in order to reduce the voter turnout.
What is the guarantee that you won't renege on your promise to abolish the executive presidency, as all your predecessors did?
It is because I am not a professional politician. I am a man who served this country for 40 years and I am a good citizen of this country. Because of that I will honour what I promised.
Which powers do you plan to keep with you and which powers would you transfer to Parliament?
All the excessive powers. All the powers that have been used to abuse the post of presidency would either be curbed or transferred to the legislature. Presidential immunity would be reduced. Sufficient powers would be retained to function as the Head of the State. The future president would work with Parliament. He would not run a one man show. I can't say exactly what powers would be kept with the post of president. Constitutional experts in our group are working on that.
You have a reputation as a strongman. People have reasonable fear that your ascendancy to the presidency would lead to military rule…
You can see how the country is governed now. It is because the country is misgoverned that corruption is endemic. People can't expect justice from the government apparatus. Thugs wreak havoc. You can see how that mera amethiya is dictating terms to police.
These delinquencies happen because of the absence of the rule of law. So, in order to restore the rule of law, we will need a leader who is firmly committed to that task. That isn't military rule. People will benefit. That firmness of the leader would be used to restore the rule of law.
How do you eliminate corruption when it is so ingrained in this country? Any new laws to that effect being mooted?
There are laws already. But the problem is that they are not applied as they should have been. When political stooges commit crimes, they get away scot free. In contrast, when a poor man picks a pocket, he is jailed for 10 years, just as that journalist (Tissainayagam) was sentenced to 20 years in prison. When political interference is stopped, the rule of law would function. What is needed now is not new laws, but the correct application of what is already there. We need to recognize the fact, that everyone is equal before the law.
You promised to increase salaries of government servants by 10,000 rupees. What would you give to the private sector employees?
First, we will increase the efficiency, both in the public and the private sector. Corruption, nepotism and favouritism should be eliminated. Businessmen would not have to pay ransom and commissions to get a loan passed, to get work done by the BOI. Therefore, increasing efficiency is the key in our agenda to revitalize the economy. The private sector should adopt good governance principles and good commercial practices. When these positive measures are taken, there will be a natural growth in the private sector which would automatically lead to success and profitability. If companies are running at a loss, they can't increase salaries.
So you plan to finance the salary increase in the public sector by cutting down on corruption…
Cutting down on corruption and wastage as well as increasing the efficiency….
Do you have any specific figure for a salary increase for the private sector. Do you have anything in mind?
We haven't decided yet, but we have announced that it should be parallel to the increase in the government sector. Government sector salary hike should be a yardstick for the private sector.
Are you confident that Sri Lanka can retain GSP plus if you are elected?
Yes. Main charges over the suspension of GSP Plus were allegations of war crimes and human rights abuses. I can get the war crime charges cleared because I take the responsibility for the war. Mahinda Rajapaksa can't face them, because he has no clue about how the war was fought, though he says that, "mama papuwa denawa." If he knows how the war was fought, why can't he go and clear the country of these war crime allegations. I know everything about the war and I will go and meet them (EU), challenge them to an open forum and make our case heard. As for human rights abuses, such as extra judicial killings, disappearances, harassment of political activists, detention of journalists, all those will be stopped. We will clear the name of Sri Lanka.
We have a political history in which the corrupt politicians of one side would pole vault to the ruling party. Would you keep door open for them?
We will open the door for them to somewhere else. Corrupt politicos would have the door open to Welikada and Bogambara (prisons) only.
There is an allegation that the term 'unitary' is missing in your manifesto. Why is that?
Why should we include it? Sri Lanka is already a unitary state as it is clearly stated in the constitution.
There is a serious allegation levelled by the government that you signed a secret agreement with the Tamil National Alliance…
Then, tell the government to bring a copy of it and show it to the public. Mahinda Rajapaksa must have seen it in a dream. We have not signed any agreement with anyone.
Is there at least a verbal agreement with the TNA?
We have agreed to eliminate corruption, ensure transparency and accountability in governance by governing the country through Parliament; to ensure equal rights to all the citizens, promote national reconciliation and ethnic amity and mutual trust. Mahinda Rajapaksa is one who creates ethnic mistrust. He now talks of a non existing agreement, making Sinhalese suspicious of Tamils and vice versa. This is a cheap and dangerous ploy to win the election.
What about your performance in postal voting?
We received 80 per cent of postal votes from the security forces and police.195 postal votes were cast in the Minneriya army camp. I have 192 votes. Mahinda Rajapaksa got one and a monk got one and the other vote was rejected. That was just an example. In another place in the 51 Division, 82 voted. We got 72.
How is your horoscope these days?
My horoscope has always been good, I was told. But, I never bothered about the horoscope and never cared for rahu kalaya when planning the military operations. I will do the same this time around. The man who is reading my horoscope most is Mahinda Rajapaksa.
You stirred a hornet's nest recently saying surrendered LTTE leaders were killed on a directive from the Secretary of Defence…
What I said was, what I heard from journalists. That story however, is over now. He had been contacting ground commanders, brigade commanders and other junior officers throughout the war, which he should not have done. Even during the final days of the war, when the President arrived from Jordan while the plane was taxi-ing in, he called Shavindra Silva on phone. He asked whether the war is finished. Shavindra Silva told me that he replied that the war would take two to three days. Still, the President disembarked from the plane and went and kissed the tarmac.
Your son- in- law is accused by the government of providing weapons to the army at higher that normal prices…
My son -in- law's company is the Hi Corp International in USA. It is not even registered with the Ministry of Defence, therefore they can't bid for tenders of the Ministry of Defence. The company which has supplied items is called Hi Corp in Sri Lanka, not the Hi Corp International which is my son- in- law's company in the USA. When they bidded, I approved some tenders; when they put the lowest bid and when their items were passed by technical evaluation. But I have rejected twenty more when someone else was giving the best deal. We have bought some generators, binoculars and scanners to intercept terrorist communications. They have been purchased from a company in Australia named British Bornio, which has an agency in USA. My son in Law's Company has chosen British Bornio agency in USA as their agent. The person who ran that agency was the person who was brought down to Sri Lanka by the government to give various distorted versions on the television. Illangamage, incidently is a captain who deserted the army. I helped him to get out of the army when he wanted to come to Sri Lanka earlier to visit his sick parents. That is how my son- in- law came to know him. Now, he is trying to say that he did all these deals with my son-in-law's consent. This person is being given security by Defence Ministry. He was given a business class air ticket to come to Sri Lanka. He was put up in Hotel Galadari at government expense. He was given PSD (Presidential Security Division) security when he was here. Now he is being given police security even in the USA. The government is paying for that. To keep two police cars parked in front of his house, the government is paying approximately 2 million dollars a month. We will reveal these details soon. That is corruption.
You do straight talk, but history in local politics is such that it could be a disadvantage…
I do straight talk and don't lie. Whether to approve that or not is the discretion of the people. I think people have realized that these hypocritical and dubious politicos would not help their cause. They also want people who talk straight and deliver on their promises.
How do you feel about the way the state media is projecting you. The state TV which not so long ago sang praises of you, now warn that you would be an Idi Amin. The 'Rise and fall of Idi Amin' is now on air.
I am not bothered. But that shows the bankruptcy of the governments campaign. They sling mud at me, called me traitor and once, and went to town with a fictitious white flag story. Now they have hatched new conspiracy theories, saying that I will divide the country. But, people didn't believe any of them. They will play one story for four- five days, but all that in vain — and when we replied to these clumsy allegations, people accepted our version. Now they show this Idi Amin's story. They must be thinking people are idiots to believe them. Sri Lankans can't be that foolish. Did I lose my popular support due to any of these? No.
Do you have any idea how Lasantha Wickrematunge was killed?
I know one thing about his murder. He was killed by an underworld gang on the orders of whoever was handling that gang. You have to find out who was controlling the underworld gang. There are underworld gangs and people controlling them. There are "doctors" controlling the underworld gangs and underworld controlling doctors. Find out who is behind this. But we will find it out after January 27.
What would be your foreign policy. We are distancing from the west and associating some of the most despotic states in the world. Would you follow the same path?
I would never follow the track this regime is following. You can see what has happened to him now; international condemnation of him etc., I will follow the non aligned policy and maintain close relations with the neighbours and countries with which we maintained strong trade relations in the past. We had a special relationship with the west in the past and I will revive that. You can't always quarrel with powerful countries. On the other hand, we can't let them dictate terms to us. We will maintain a strong emphasis on our sovereignty, simultaneously having good relations with the west. Aspects like human rights and media freedom which the west is raising now, would be restored and strengthened. We will clear the name of Sri Lanka. The present government has failed to clear the name of the country in the eyes of the international community.
Finally, what is your message to the voters?
Don't be terrified by those cardboard thugs and go and cast your vote. If 85 per cent voter turn out is ensured, the whole effort to rig the election can be defeated. Only that can secure the supremacy of the people. People have to take a decision. If people want Mahinda Rajapaksa, we will gracefully accept it. If Rajapaksa wins in a free and fair election, I have no problem with that. But if he rigs the election, as he now plans, we will be deeply disappointed.
:: :: :: Lakbimanews Online Edition :: :: ::
(For updates you can share with your friends, follow TNN on Facebook, Twitter and Google+)