Sri Lanka ex-president delivers poll blow to Rajapaksa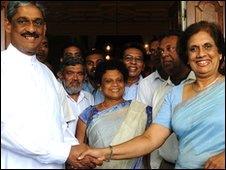 Sri Lankan President Mahinda Rajapaksa has suffered a blow ahead of Tuesday's election, with ex-President Chandrika Kumaratunga vowing to back his rival.
Mrs Kumaratunga, a senior member of Mr Rajapaksa's Sri Lanka Freedom Party, said she supported Gen Sarath Fonseka.
She said she was deeply concerned about violence, intimidation and corruption in the fiercely-contested poll.
In an increasingly bitter campaign, the opposition accused the ruling party of planning a coup to hang on to power.
The ruling party said the accusations were "baseless" and an attempt to cover for an inevitable defeat.
'Comfortably ahead'
Mrs Kumaratunga is the daughter of the founder of the Sri Lanka Freedom Party and the dynasty still has big support in the country.
Mrs Kumaratunga herself served as president from 1994 to 2005.
In endorsing Gen Fonseka, she said: "I took the decision to end four years of silence as I am deeply concerned about the violence, intimidation and corruption."
She said: "Our party has deteriorated in recent years and I see an opportunity to revive it through a change of the present culture."
President Rajapaksa and Gen Fonseka are closely associated with the government's defeat of the Tamil Tigers last May but the pair fell out bitterly soon after.
Saturday was the final day of campaigning, with both of the main candidates holding their last election rallies.
Election clashes have so far left four dead and hundreds wounded.
The opposition on Sunday stepped up its accusations against the ruling party.
It said the party was planning to disrupt the media, prevent a declaration of the result and deploy troops to back a coup.
Mr Rajapaksa's party insists the president is behind a free and fair election.
His spokesman, Chandrapala Liyanage, told Agence France-Presse news agency: "The opposition is making baseless allegations to justify their defeat.
"We will have a peaceful election and all indications are that the president is comfortably ahead."
(For updates you can share with your friends, follow TNN on Facebook, Twitter and Google+)