The contest for Sri Lanka's future
Pitting the president against a former general, the contest between the two frontrunners in Sri Lanka's presidential election has shaped up to be a battle of political heavyweights.
In one corner for the January 26 vote is Mahinda Rajapaksa – the incumbent president who ordered the destruction of Sri Lanka's Tamil Tiger rebels.
In the other corner is the man who made that vision a reality – retired General Sarath Fonseka.
Eight months after the final defeat of the Tigers, the former partners in war are very much enemies in peace.
And in perhaps one of the grander political ironies, it is the Tamil people themselves who could be the kingmakers in deciding Sri Lanka's presidency.
Paikiasothy Saravanamuttu, of the Colombo-based Centre for Policy Alternatives says that in what will be Sri Lanka's first post-war election, the island's Tamil voters could well prove decisive.
"This is about reconciliation and national unity and should be about the Tamil polity demonstrating its commitment to be part of the mainstream of Sri Lankan politics and to choose a Sri Lankan leader," he told Al Jazeera.
"So in that sense it is very ironic but it is also very appropriate."
Rajapaksa is seeking a second term in office two years ahead of schedule, looking to build on the popularity he gained following last May's final defeat of the Tigers.
A few months ago his re-election seemed a done deal.
But Fonseka's decision to join the campaign trail has made the incumbent's chances of victory at lot less certain.
Tamil vote key
The votes of Sri Lanka's Sinhalese – the majority ethnic group on the island – are largely split between Rajapaksa and his former general, while the island's Tamils make up around 12.5 per cent of the 20 million population, so their vote is key.
For many Tamils their decision to back Fonseka is not so much a vote for him but a vote firmly against Rajapaksa.
Indeed Fonseka has won a key ally in the Tamil National Alliance (TNA) – an alliance of ethnic Tamil parties formed with the backing of the defeated Tamil Tigers.
But that backing is still conditional.
"We need to bring change. We need an opening," says Tamil MP Mano Ganesan, who leads the Democratic People's Front.
"It's not that we believe totally in Sarath Fonseka. We have no choice."
If elected, Ganesan says, Fonseka will still have to prove himself to the Tamil electorate.
"He will need to perform… so he can win the hearts and minds of the Tamils," he says.
'Change'
Fonseka's campaign slogan of "Believable Change" has echoes of another recent presidential campaign on the other side of the world – one which also has yet to deliver the changes it promised.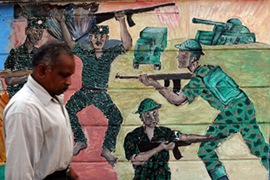 Rajapaksa, meanwhile, has labelled his 14-point election programme "A brighter future", promising to push Sri Lanka back into the forefront in Asia while working for a political solution to the ethnic issues in a post-war Sri Lanka.
Observers say corruption, the economy and media freedoms are key issues for the Sinhalese community who want to see some tangible benefits of the military victory.
For the Tamil and Muslim communities both candidates have been pledged to develop and rebuild the war-ravaged east and north of the island to help reintegrate them into unified country.
Fonseka, for his part, has also offered to scrap the presidential system if elected and replace it with a parliamentary democracy – effectively sacking himself.
Rajapaksa is offering more representation for minority Tamils in new legislative arrangements, but up to now has shown little enthusiasm for Tamil autonomy or power sharing.
But observers say there are strong grounds to doubt that either candidate, whoever wins, will have Tamil interests at heart after polling day.
The International Crisis Group (ICG), a conflict resolution and prevention group, quotes one former government official as saying: "If you were a Tamil, how could you vote for either candidate? Lots of Tamil nationalist voters will likely not vote at all."
Threats
In the mean time some fear that Rajapaksa will stop at nothing to prevent a Fonseka win.
In the final days before voting, election-related violence has increased, and there have been numerous allegations of threats and intimidation against campaign workers.
Under Sri Lankan election laws, posters, bill boards and hoardings showing images of the main candidates were meant to have been removed some weeks ago, but they are still visible everywhere.
Sri Lankan media are pinning their colours clearly one way or another, with the Sunday Observer headlining a January 17 article about Fonseka as "The Traitor".
"It's been dirty campaign," Paikiasothy Saravanamuttu of Sri Lanka's Centre for Policy Alternatives told Al Jazeera.
"It is not the most violent on record but it is the first outside the context of conflict and there should be no reason why the scale of violence that we are recording at present has to be recorded. It's like war in certain parts," he said.
"All the elections we have monitored, the closer we get to polling day there is a spike in violence, and there is nothing regrettably to suggest that this election will be an exception."
Concerns remain too whether Tamil refugees still in camps in the north and those recently released have been properly registered for the election.
Fears of fraud
Increasing election violence has also raised fears of tampering with Tamil votes – something that appears more likely with the TNA's backing for Fonseka.
This election is extraordinary for the sheer number of candidates standing besides the two main contenders – who themselves head coalition groups.
Twenty other names will appear on the ballot paper – each represented by a symbol. Rajapaksa falls under a betel leaf slogan. Fonseka: a Swan.
And like the proverbial bird gliding across a calm lake – some say the price of a Fonseka victory will come at the cost of some furious paddling beneath the surface.
"The opposition seems so dazzled by the prospects of being able to give Mahinda [Rajapaksa] a run for his money that they seem to have forgotten all the risks involved," one Western diplomat told the ICG.
If Fonseka wins, serious questions remain whether the various coalition partners will be able to hold him to the promises he has made.
Would they also still back him come parliamentary polls in April or May?
Paikiasothy believes the result will be very close – with the winning margin less than five percent.
"What's important is that whatever the majority is,… that the result will be accepted and can be accepted, and that there won't be any serious doubts cast on the credibility and the legitimacy of the result," he says.
(For updates you can share with your friends, follow TNN on Facebook, Twitter and Google+)