A fresh start for Sri Lanka?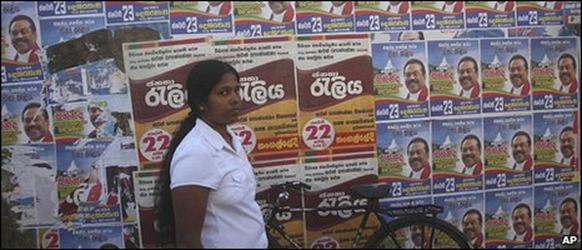 Twenty years ago I stood next to a railway line in northern Sri Lanka and watched as members of the Liberation Tigers of Tamil Eelam ripped up the track.
They were using the wood and steel to build bunkers, digging in for the long haul.
Civil war was returning and the link between north and south was being broken. It would remain so for a generation, at a cost of tens of thousands of lives.
But now the Tamil Tigers have been smashed. The government has regained control of the whole island after a brutal and bitter war.
A country which has been scarred by conflict for so long is pausing for breath, and wondering what comes next.
And that's what makes this the most important election in Sri Lanka for more than two decades. The people are choosing who they want to lead them into a new era.
Sri Lanka could and should be South Asia's Singapore – a vibrant business hub sitting astride strategic trade routes.
It has fabulous tourist sites, high literacy rates and a young population.
But years of war, political miscalculation and missed opportunities have taken a heavy toll.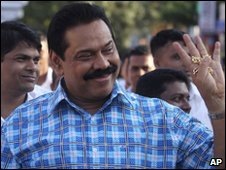 This is the best chance for a long time to make a fresh start.
Six months ago, no-one would have bet against the incumbent Mahinda Rajapaksa in an election.
Following the rout of the Tamil Tigers, he seemed unassailable. And he remains personally popular among many Sinhalese, especially in rural areas.
Abuse of power
But his administration also has many critics. They complain about corruption, about rampant nepotism and about deep-seated intolerance of criticism.
Having upset the authorities during my reporting from Sri Lanka in the final months of the war, I wasn't given a visa to cover this election despite repeated requests over several weeks.
"We haven't denied you a visa, Mr Morris," a senior Sri Lankan official told me, "it's just that we haven't approved one yet."
Other members of the international media have had to enter the country posing as tourists in order to report on a democratic election.
Monitoring groups have also reported the widespread abuse of state power during the election campaign.
And then there's the question of what a re-elected Mahinda Rajapaksa would actually do to ensure that civil war never scars his country again.
A recent report by the International Crisis Group argued that, so far, the president's post-war policies had deepened rather than resolved the grievances that generated and sustained the Tamil Tigers for so long.
"While the LTTE's defeat and the end of its control over Tamil political life are historic and welcome changes," it said, "the victory over Tamil militancy will remain fragile unless Sinhalese-dominated political parties make strong moves towards a more inclusive and democratic state."
Unwieldy alliance
The opposition in this election promises change. If a slogan had to be coined for supporters of Sarath Fonseka's campaign it would probably be "Anyone but Rajapaksa".
Gen Fonseka's supporters are an unwieldy alliance of Tamil nationalists, Sinhalese nationalists and the main opposition party, the UNP.
Candidate Fonseka preaches national reconciliation and says more must be done to satisfy the political aspirations of the Tamil community.
But does he really mean it?
He has been quoted in the past as saying the minorities in Sri Lanka "must not try to demand undue things". And he has always had the reputation of being a hardliner.
After a life of military service, of course, he also has no political experience whatsoever.
"It is a risk," admits one reluctant Fonseka supporter in Colombo. "But in this case it's 'better the devil we don't know, than the devil we do'."
After an increasingly nasty campaign, the president probably remains the favourite in this watershed election. But it could be close.
Both candidates say they won the war against the Tamil Tigers, and they both say they will win the popular vote.
(For updates you can share with your friends, follow TNN on Facebook, Twitter and Google+)