Sri Lanka prepares to elect president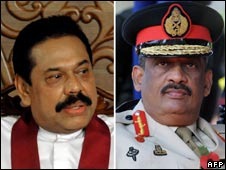 Voters in Sri Lanka are preparing to choose their next president after a bitter election campaign.
The election is the first since the Tamil Tiger rebels were defeated last year after 25 years of war.
President Mahinda Rajapaksa is facing a tough test against his former army chief-turned-rival Gen Sarath Fonseka.
More than 14m voters will be eligible to vote in 11,000 centres from 0700 local time (0130GMT) on Tuesday. Polls will close at 1600 local time.
Counting will begin three hours later and the final results are expected to be announced on Wednesday morning, the election commission has said.
Acrimonious campaign
About 250,000 Sri Lankan election officials have moved into position throughout the country after collecting polling cards and ballot boxes from central election offices.
Security is tight amid fears of violence and more than 68,000 police are being deployed to protect the polling stations.
Mr Rajapaksa vowed on Monday the election would be free and fair.
"The Sri Lanka government calls for a peaceful election and stands committed to taking whatever steps deemed necessary," his office said in a statement.
The two-month-long campaign, often marked by acrimony, officially closed on Saturday.
Election clashes have so far left four dead and hundreds wounded.
"We had in this election I think a scale of abuse of state resources which had not been registered before," news agency Reuters quoted Dr Paikiasothy Saravanamuttu, co-convenor of the Centre for Monitoring Election Violence, as saying.
But he added: "If enough Sri Lankan citizens go in large numbers as we have always done in the past and for over six decades… resisting the violence and the intimidation… then we may well get a result that at the end of the day reflects overall the wishes of the people of this country."
On Sunday, President Rajapaksa suffered a blow when ex-President Chandrika Kumaratunga vowed to back his rival.
Mrs Kumaratunga, a senior member of Mr Rajapaksa's Sri Lanka Freedom Party, said she was deeply concerned about violence, intimidation and corruption in the fiercely-contested poll.
President Rajapaksa and Gen Fonseka were closely associated with the government's defeat of the Tamil Tigers last May but the pair fell out bitterly soon after.
BBC News – Sri Lanka prepares to elect president
(For updates you can share with your friends, follow TNN on Facebook, Twitter and Google+)