Troops surround Sri Lanka opposition leader Sarath Fonseka's hotel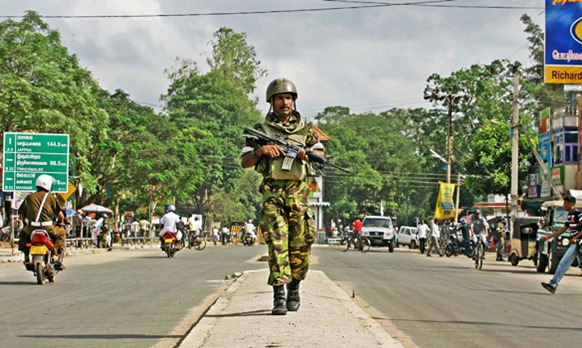 Heavily-armed Sri Lankan troops have surrounded a five-star hotel where Sarath Fonseka, the former army chief who was the main challenger in yesterday's presidential election, is staying with key opposition leaders.
An Army spokesman said that the troops were deployed at the Cinnamon Lakeside Hotel in Colombo – a popular haunt for high-end tourists — because General Fonseka was inside with 400 people, including alleged army deserters, and their intentions were unclear.
He said that there were no plans to arrest the General, who led the campaign that defeated the Tamil Tiger rebels in May, before falling out with President Mahinda Rajapaksa and joining the opposition.
But the General said the Government planned to take him and opposition leaders, including the former Prime Minister Ranil Wickremesinghe, into custody.
"These people have surrounded the hotel with military and threatened my security people," General Fonseka told Reuters.
"They had a plan to surround us and take us into custody and I don't know if this is that phase of that particular operation."
Initial results this morning put President Rajapaksa in the lead with 1,125,297 votes compared to 752,850 for General Fonseka, but analysts said that the race was still up for grabs, with millions of votes not tallied.
The campaign's vitriolic nature, the personal animosity between the two main candidates and tit-for-tat accusations of coup plots had fuelled concerns that any result would be contested and foment new unrest.
In a further twist, the Government said that it would challenge the legitimacy of General Fonseka's candidacy in court after it emerged that he was unable to cast a ballot on Tuesday because his name did not figure on the electoral roll.
The Government argued that General Fonseka was therefore ineligible for the presidency, despite a strong statement to the contrary from the independent election commissioner.
General Fonseka is backed by the Tamil National Alliance, the largest Tamil party, which says he has promised to address Tamil grievances, and is the only one who could oust Mr Rajapaksa.
Many Tamils appear to agree, especially those among the 300,000 who were detained in internment camps after the war ended.
Sriram Subramanian, a 31-year-old Tamil driver in Colombo, told The Times: "It's not a good choice, but for us Fonseka is the only choice."
However, some Tamils say that they could never vote for either of the men who they blame for alleged war crimes in the last stages of the war, including the shelling of innocent Tamil civilians.
Many others in the north did not vote because they were afraid of violence, unable to register, or had no transport to reach polling stations.
Turnout in Jaffna was depleted by a series of pre-dawn bomb blasts, including one at the home of an activist for Mr Rajapaksa's party.
(For updates you can share with your friends, follow TNN on Facebook, Twitter and Google+)