Sri Lanka president to dissolve parliament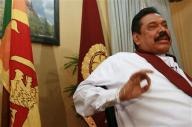 Re-elected President Mahinda Rajapaksa will dissolve parliament shortly and call a legislative election, his office said Thursday, in a move that would let him reshape the unwieldy coalition now backing him.
Rajapaksa won a thumping victory on Tuesday over his former army commander, General Sarath Fonseka, in the Indian Ocean island's first nationwide election since the defeat of the separatist Tamil Tigers.
"(The) President is to dissolve parliament and go for a general election soon," presidential spokesman Lucien Rajakarunanayake said.
He declined to say precisely when the president would dissolve the legislature. The present parliament's term is due to expire in April.
Disproving forecasts Rajapaksa and the former general would race to a photo finish, the veteran politician won 57.8 percent of 10.4 million votes cast against 40.2 for Fonseka.
The general has cried foul over what he said were vote rigging and an attempt to arrest him after army soldiers surrounded the luxury hotel where he was staying in the capital Colombo.
He walked out unhindered on Wednesday evening and vowed to challenge the results in court, but few expect that to get far given the president's victory margin was 1.8 million votes.
The Colombo Stock Exchange dipped in early Thursday trading but rebounded to gain 1.28 percent and touch another record high. It turned in a 125 percent return in 2009, fuelled by post-war optimism that made it one of the year's best performers.
The United States in a statement praised the conduct of the election, which many feared would be violent after a bloody campaign in which five people died. Observers noted few irregularities, and no major violence.
The U.S. embassy statement noted a few violations and urged they be investigated but congratulated Sri Lanka for turnout that exceeded 70 percent and the president for his win.
"We look forward to continuing the partnership between our two countries and working with the government and the people to support a peaceful and prosperous Sri Lanka," the statement said.
Rajapaksa sought a new mandate to bless his plans to develop Sri Lanka by exploiting its geographically strategic position astride air and sea lanes, rebuilding infrastructure and encouraging foreign investment and local productivity.
Banking that his post-war popularity would secure him a new six-year term, Rajapaksa gambled and called the election two years before his term was set to expire.
Aides say the president is keen to reconfigure the current coalition behind him, which has produced a cabinet with more than 100 ministers and has in the past kept him from achieving some of the political tasks he set out to do.
One on which Rajapaksa has been continually criticised is the start of political reconciliation with the Tamil ethnic minority, after the end of the war. The president said on Wednesday night he would begin that process after the parliamentary poll.
Rajapaksa holds the reins of a $40 billion (24.6 billion pound) economy that has enjoyed a partial peace dividend, and is on the path to recovery with big Chinese and Indian investments into infrastructure and plans to put $4 billion into development.
(For updates you can share with your friends, follow TNN on Facebook, Twitter and Google+)