Rights group, monitors query Sri Lankan election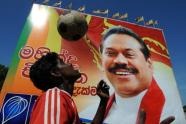 Poll monitors and human rights groups on Friday raised questions over elections that drove Sri Lankan President Mahinda Rajapakse back to power as his defeated rival demanded a fresh poll.
The Hong Kong-based Asian Human Rights Commission cited counting irregularities, as well as blatant misuse of state resources by Rajapakse, who comfortably won a second term in Tuesday's poll.
"Very clearly, the question as to whether Sri Lanka is any longer capable of conducting a free and fair election has been raised in this election," the group said in a statement.
"It is not only the electoral process that is under challenge. The very process of receiving, preserving and counting the ballot at the commissioner?s office itself is an issue that has been prominently raised."
The defeated candidate, former army chief Sarath Fonseka, said Thursday he had already lodged a protest with the independent elections commission and would also petition the Supreme Court for an annulment of the result.
"We have already collected enough evidence of sophisticated vote-rigging at counting centres and at the time of the computer processing of the results," Fonseka told reporters at his Colombo home.
He accused the government of stealing 1.4 million of his votes. Rajapakse romped home with just over six million votes against 4.2 million for the retired general.
"I should have been the president. I am the people's president," Fonseka said.
Official results gave Rajapakse 57.9 percent of the popular vote, trouncing the opposition-backed Fonseka, who got 40.1 percent, after a contest that many had expected to be much closer.
Rajapakse came to power in November 2005 and called Tuesday's vote four years into his six-year term in a bid to capitalise on the popular support for his crushing of Tamil rebels in May that ended a 37-year separatist war.
The government insisted that the election was free and fair but the United States has pressed for a probe into the charges of vote fraud.
"We urge a thorough investigation of these allegations in accordance with Sri Lankan law and in keeping with the democratic traditions of the country," the US embassy said.
"We urge the authorities to ensure the safety and security of all candidates and campaign workers."
Fonseka has spoken of his fear of assassination or arrest by the government.
A team of poll experts from the Commonwealth Secretariat said the election day itself had been "well-administered" but highlighted what it called a "compromised" pre-election environment.
It specifically cited the inability of the election commission to fully ensure respect for the rule of law, as well as the failure of some state institutions to respect legal provisions and guidelines.
It also mentioned infractions of campaign regulations and incidents of violence.
"Until such problems are addressed the electoral process in Sri Lanka will not fully meet key benchmarks for democratic elections," the statement said.
(For updates you can share with your friends, follow TNN on Facebook, Twitter and Google+)