As Sri Lanka Expels Journalists and Raids Opposition, UN's Ban Relieved Still
As Sri Lankan soldiers surrounded opposition candidate Sarath Fonseca on January 27, UN Secretary General Ban Ki-moon told the Press he was "relieved" by results in Sri Lanka. Inner City Press had asked about irregularities in the voting results asserted from many quarters. Mr. Ban did not comment on these.
In the two days since, the incumbent Rajapaksa administration has moved forward to expel and deny visas to journalists asking about election irregularities, and has raised Fonseca's office while making threats of arrest.
On January 29, Inner City Press asked the UN's Associate Spokesman Farhan Haq if Ban is still relieved, in the face of the expulsion of journalists and raiding of political opponents. Video here, from Minute 12:03.
"He still is relieved," Haq said, that election day went relatively peacefully. Haq then read out the same canned "appeal to abide by rules" which Ban delivered in person in response to Inner City Press' question on January 27.
Obviously, that "appeal" had no effect, as the administration of Mahinda Rajapaksa, whom Ban calls a friend, has since then further cracked down on opponents and independent media.
To the contrary, it would appear that Ban's January 27 statement that he was "relieved," the same word used by Rajapaksa, served as a green light to move from relief to further repression.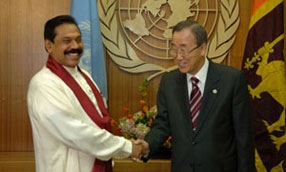 UN's Ban shakes with M. Rajapaksa, crackdown on press not shown
Ban has set sail to London, Cyprus and Ethiopia. It is unclear if he will take questions on, or unprompted speak about, Rajapaksa's crackdown in Sri Lanka. Watch this site.
While the UN's Ban Ki-moon is "still relieved," according to RSF:
-Police today arrested Chandana Sirimalwatta, the editor of Lanka…The president's brother, defence minister Gotabhaya Rajapaksa, threatened to burn the newspaper down a few days ago.
-Soldiers took up position on 26 January around and inside the buildings that house two privately-owned TV stations, Sirasa and Swarnavahini, in Colombo.
-Plain-clothes men using a car with the license plate 32/ 84 32 placed seals yesterday evening over the entrance to the office of the Lankaenews website. Men searched the office earlier in the day. The website itself has been rendered inaccessible for the past few days by the state telecommunications company Sri Lanka Telecom.
-Reporter Karin Wenger of the Swiss public radio station DRS is facing possible deportation on 1 February following the withdrawal of her press accreditation. She said, "I think this decision is linked to the questions I asked an official during a news conference after the results were announced."
-Soldiers roughed up photographers working for foreign news agencies when they tried to attend a news conference given by Gen. Fonseka yesterday. One was forced to delete the photos on his camera's memory card. Soldiers also prevented journalists from working freely near a hotel being used by Fonseka the previous day.
(For updates you can share with your friends, follow TNN on Facebook, Twitter and Google+)