On Sri Lanka, UN's Ban Expresses Canned Relief as Opposition Candidate Surrounded
As in Colombo, Sri Lankan security forces surrounded opposition candidate Sareth Fonseka, in New York UN Secretary General Ban Ki-moon appeared to speak to the Press before heading on a trip to London, perhaps Cyprus, and Ethiopia.
  He spoke of Afghanistan — confirming his nomination of Staffan de Mistura as his envoy — Sudan and Haiti. Inner City Press asked, "do you have any comment on the Sri Lankan election of yesterday in which the main opponent, Mr. [Sarath] Fonseka, has been essentially detained by the armed forces and is challenging the result?" Video here, from Minute 13:18.
While Mr. Ban had chosen not to include it in his remarks, he had a prepared statement on Sri Lanka, which largely dodged the question that was asked.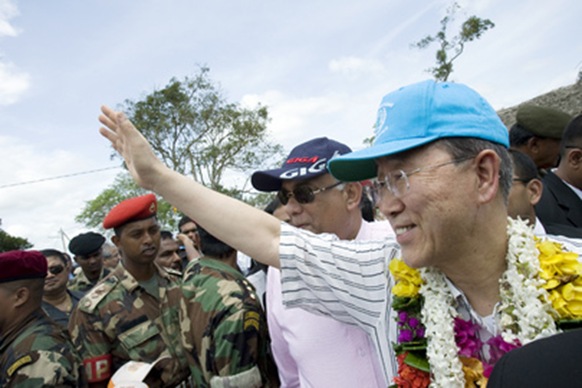 UN's Ban in Manik Farm internment camp on May 23, 2009
  He said
"On the Sri Lanka issue, I realize that the election has been quite a hard fought one, as stated by my Spokesperson a week ago. I had been concerned at the level of violence during the campaign. I am relieved that the vote yesterday appears to have [been] relatively peaceful, despite some violence incidents. The Election Commission of Sri Lanka has declared the results, and I once again appeal for parties to abide by the decision and rules and regulations, including addressing any electoral grievances. I truly hope that all sides will see the wisdom of acting with restraint and responsibility in the interest of the nation. This would bode well for future elections and national harmony."
(For updates you can share with your friends, follow TNN on Facebook, Twitter and Google+)