Lanka newspaper shut down for criticising top bureaucrat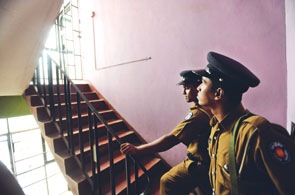 [AFP] A day after taking Lanka editor into custody, police seal the premises of the weekly for criticising a top government official
Police in Sri Lanka shut down the offices of an opposition newspaper yesterday, the weekly said, as international rights groups accused the authorities of a vendetta against critical media.
Police went to the offices of the Lanka weekly and sealed the premises, a day after taking its editor into custody for questioning over reports that criticised a top government official, the newspaper said.
"The Criminal Investigations Department (CID) officers have surrounded the Lanka office and sealed it today," the web edition of the paper said.
A police spokesman said he was not aware of any action taken against the newspaper and the government declined to comment.
The Paris-based Reporters Without Borders urged President Mahinda Rajapakse to end arrests, and what it called intimidation of journalists working for privately owned and foreign media.
"This wave of post-election violence could cast a lasting stain on the start of President Rajapakse's second term and bodes ill for the political climate during the coming years," the group said.
Reporters Without Borders said a political reporter disappeared two days before January's presidential election while another editor of an anti-government newspaper had been arrested.
The group urged the government to deploy more police officers to search for political reporter and cartoonist Prageeth Eknaligoda, who has been missing since January 24. His family has had no news of him since.
The government has also ordered the expulsion of a Swiss reporter covering the elections.
The New York-based Committee to Protect Journalists (CPJ) said it had received reports of government retribution against journalists seen to be siding with the opposition.
"Given the ugly history of attacks on journalists in Sri Lanka, we call on President Rajapakse to ensure the safety of all journalists in Sri Lanka, and to use his new mandate to reverse the repressive trends of the past several years," said the CPJ's Asia programme coordinator, Bob Dietz.
Dozens of Sri Lankan journalists are living in exile abroad because of the dangerous and sometimes deadly situation for media workers in Sri Lanka, according to rights groups.
Official figures show nine journalists have been killed and another 27 assaulted in the past three years in Sri Lanka. Activists say over a dozen journalists have been killed.
Human Rights Watch said it feared the latest attacks against the media were aimed at silencing critics ahead of parliamentary elections due shortly.
(For updates you can share with your friends, follow TNN on Facebook, Twitter and Google+)