Mother country means Tamil Eelam for 90-year-old Sathyabhama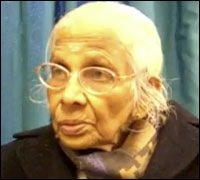 I love my country as I love my mother. That's why I have come to vote in the referendum, says 90-year-old Sathyabhama Kumaraswamy who came to cast her vote in a booth in London Saturday. For her, who was a teacher for 37 years at Mankaiyarkkarasi Viththiyaasaalai in Nalloor, Jaffna, country means the country of Tamils in the island. She disassociates her from the country of the Sinhalese. Sathyabhama, who saw the days of the beginnings of democratic struggle of Eezham Tamils, recounted how her mother encouraged her in that and urged all Tamils to do whatever possible for their country. The grand lady, accompanied by her 30-year-old grandson said no one should back out from a venture such as this referendum. Voting continues for the second day in Greater London, Sunday.
Interviewed by TamilNet UK correspondent, Sathyabhama became emotional when asked why she had come for voting at this age, braving harsh weather. She said she had been continuously doing everything possible within her means to her mother country, even when she had become physically weak.
"After coming to London I fasted on Fridays and prayed for the emancipation of my country. I donated all my pension arrears to the cause of Tamils," she said.
She recounted the days of the non-violent struggle through Sathyagraha Movement in the early 1960s, when she and her fellow teachers had spent the whole day fasting at the esplanade of the Jaffna fort while her mother had to take care of her children.
"My mother was then 78 year-old, but she refused to partake food on the day when people were fasting at Galle Face Green, saying how could she eat when 'her children' were fasting and until hearing their safe return," Sathyabhama said.
Myself, and my husband, used to attend to all the political meetings of those days. I was interested in the politics of my mother country since my younger days, she said, citing from Tamil poetry in her polished language, accent and tone of a teacher of her generation that "Mother and the country of one's birth are much greater than heaven earned by penance."
The anger coming from Eezham Tamil mothers, grandmothers and female gender in general against State in Sri Lanka is noticeably pronounced in recent times.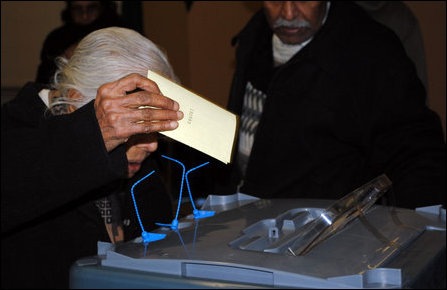 (For updates you can share with your friends, follow TNN on Facebook, Twitter and Google+)