S.Lanka president 'acts against opposition officers'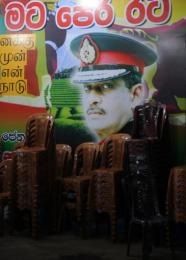 Sri Lankan President Mahinda Rajapakse has transferred several senior military officers loyal to the former army general who he defeated in elections, a military source said Sunday.
Rajapakse ordered a shake-up of the military to remove Sarath Fonseka's supporters from key roles after Fonseka's failed bid to win the presidency in Tuesday's vote, the official said on condition of anonymity.
"Several seniors who were very close to General Fonseka have been removed from sensitive positions," he said.
Army spokesman Udaya Nanayakkara confirmed the transfers, including the removal of a top major general who was given an administrative job, but he declined to explain the moves.
Rajapakse's government had accused Fonseka of planning a coup in the event of losing the election.
Police raided Fonseka's political headquarters on Friday and arrested several retired army officers who had been working for him.
Fonseka said the government had targeted his office to prevent his party from collecting evidence to mount a legal challenge to the election result.
Rajapakse won 58 percent of the vote, trouncing Fonseka, who got 40 percent, after a contest that many had expected to be much closer.
(For updates you can share with your friends, follow TNN on Facebook, Twitter and Google+)